Florence Tamet owns a two-bed apartment in Paris' 10th arrondissement. She decided to go Web hunting for original designs and retro pieces to decorate her apartment.
The best of vintage deco, in photos.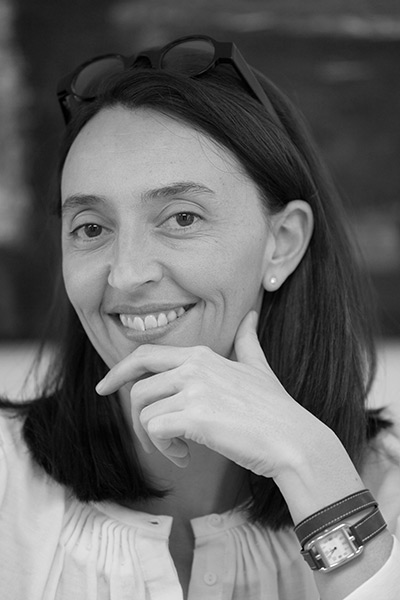 Why did you pick this apartment?
It was mostly the neighbourhood that appealed to us: the area around Canal Saint-Martin is such a great spot for wandering, having a coffee or drink with friends, just a short hop from the liveliness of Place de la République.
Another thing we were looking for was a rather typical Parisian apartment with wooden floors, moulding, high ceilings and most importantly in original condition, so we'd have free rein for the redecorating!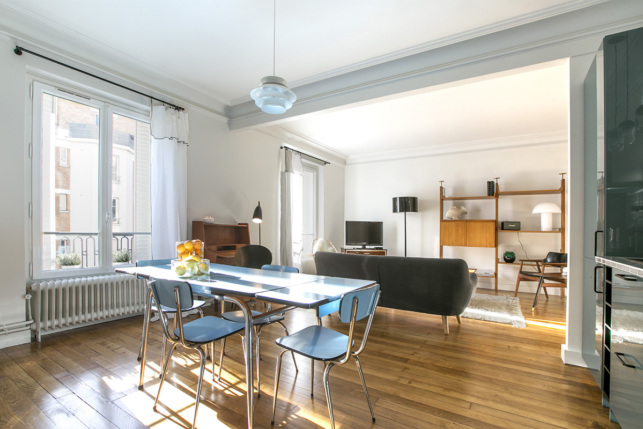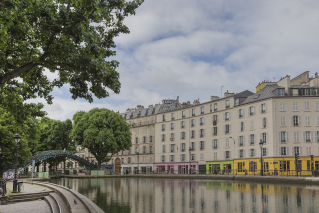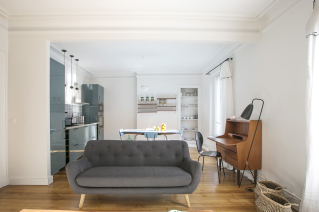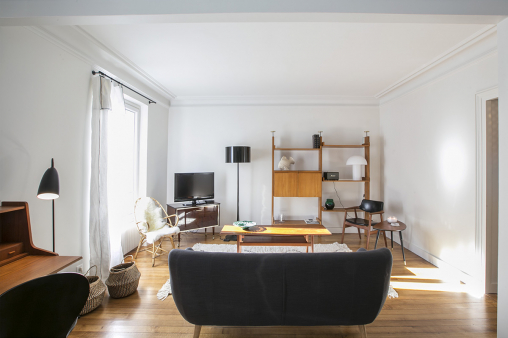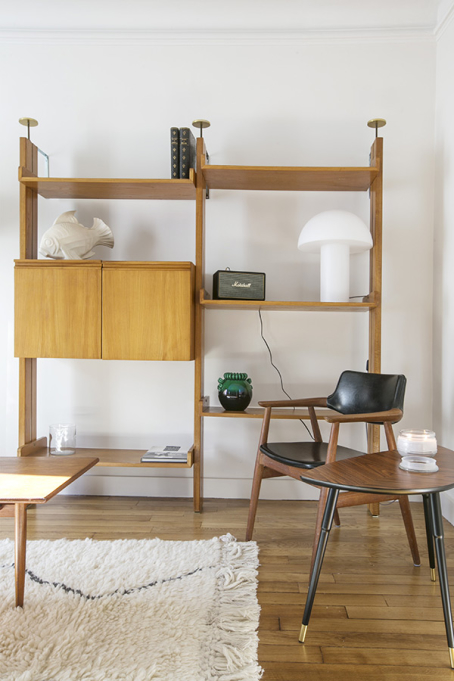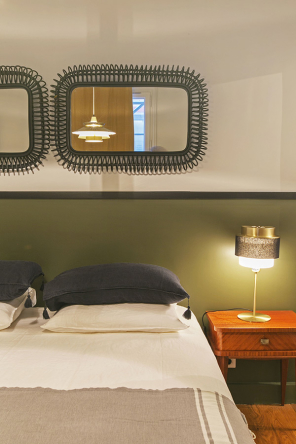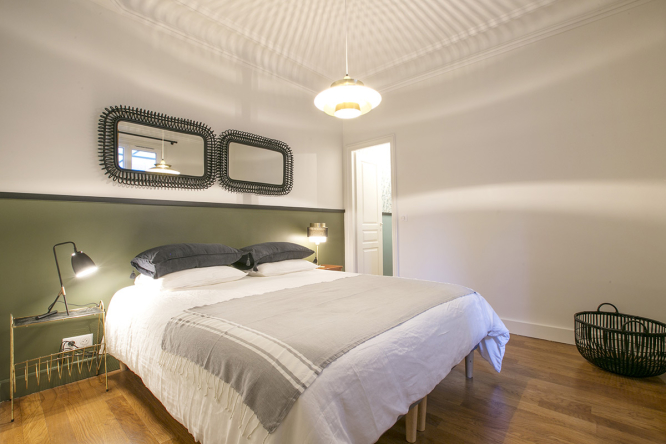 Did you decorate the apartment yourself?
Well, first of all we had to redesign the layout of the rooms. We kept the living room and dining area, with plenty of light, but all the rooms on the courtyard side were completely restructured with the help of our favourite architect Marc Deloche.
He added a corridor that led to the adjoining bedrooms and moved the kitchen, which was too cramped, into the living area.
Then we took over for the decorating: we chose the colours, wallpaper and most importantly we went hunting for furniture and lamps.
Where do you usually go bargain-hunting?
I find lots of bargains online.
I love websites that offer a selection from various antique shops and resellers: Selency By Broncantelab in France and Retrostart in Scandinavian countries.
I also have a few addresses for websites in Belgium and the Netherlands which offer a great selection of fifties-style lighting like Vintage Design Point and Retrohuis.
I also love the more traditional spots like the flea markets at Saint-Ouen and neighbourhood bric-a-brac shops.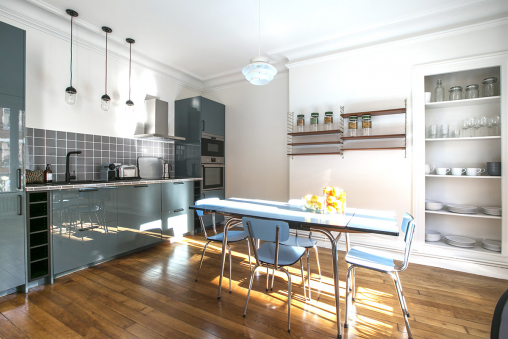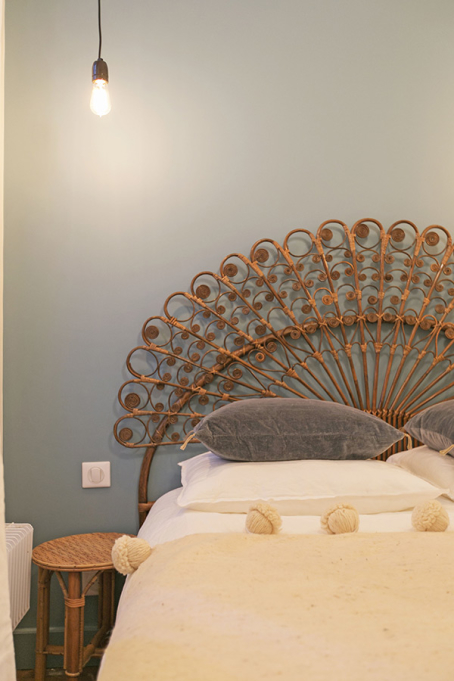 What are your favourite pieces in your apartment?
The first thing we fell in love with was the Formica table! It's an icon from our childhood and it fits in perfectly with the feel of the area.
The wicker headboard was a great find, we were really lucky. It reminds me of the old Emmanuelle armchairs.
Another one we adore is the 1950s bar that we turned into a TV cabinet with its little light inside, it's so vintage!
What do you like about the neighbourhood?
It's a really Parisian neighbourhood; there are lots of different influences with little boutiques, with their individual style, new organic cafés and trendy bars.
The area is being completely rejuvenated and it's full of charm.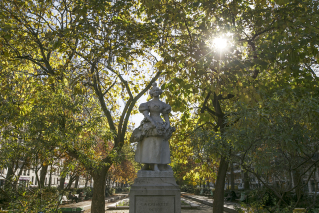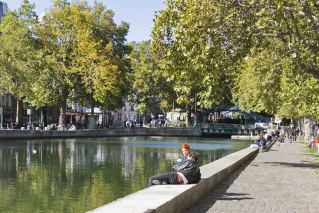 Have you any addresses to recommend?
For a speedy lunch, with fresh, organic ingredients, Le Bichat does great veggie bowls that are full of flavour.
For a sweet treat Yann Couvreur's pastry shop is just next door and the Paris Brest is out of this world.
For dinner in a modern bistrot, try Tannat – market cuisine that's refined and elegant.
To end the evening, have a drink at Dauphin, a tapas bar designed by Rem Koolhaas.
---
Florence Tamet's favourite places
Le Bichat
Homemade, organic cuisine
11 Rue Bichat, 75010
Yann Couvreur Pâtisserie
Breakfast, pastries, fugues
137 avenue Parmentier, 75010
Tannat
Ariane Stern and Simon Auscher
119 avenue Parmentier, 75011
09 53 86 38 61
Le Dauphin
Tapas restaurant
131 avenue Parmentier, 75011
01 55 28 78 88