Timothy, a financial analyst for an Irish bank, is about to move to Paris for at least six months. He has been seconded to a large insurance company located in La Défense.
His family is remaining in Dublin, but he plans to visit them as often as possible.
However, he wants an extra room to accommodate his children during the holidays. They are teenagers and he feels that this is the perfect opportunity to spend some quality time with them in Paris.
Timothy is preparing his move to Paris. In the past two weeks, his company has been showing him ads for Parisian apartments, but he can't make up his mind. Most furnished apartments for rent he has seen are not too bad, but nothing has really won him over. So this weekend, he is hunting for apartments online by himself. He is interested in the 17th arrondissement because it is close to La Défense, but also in Les Ternes district for its neighbourhood life, which he enjoyed very much during his student placement in Paris in 2003. One apartment in particular seems to check all the boxes. He clicks on the link and is immediately attracted to its warm, bright atmosphere. White walls, light hardwood floors, honey and tobacco-brown furniture, natural wood and fawn-coloured leather are his style. It instantly feels like home.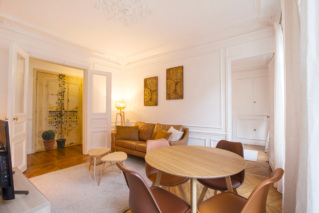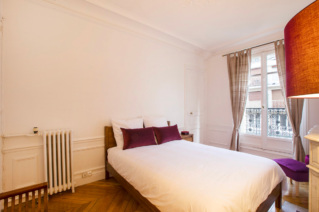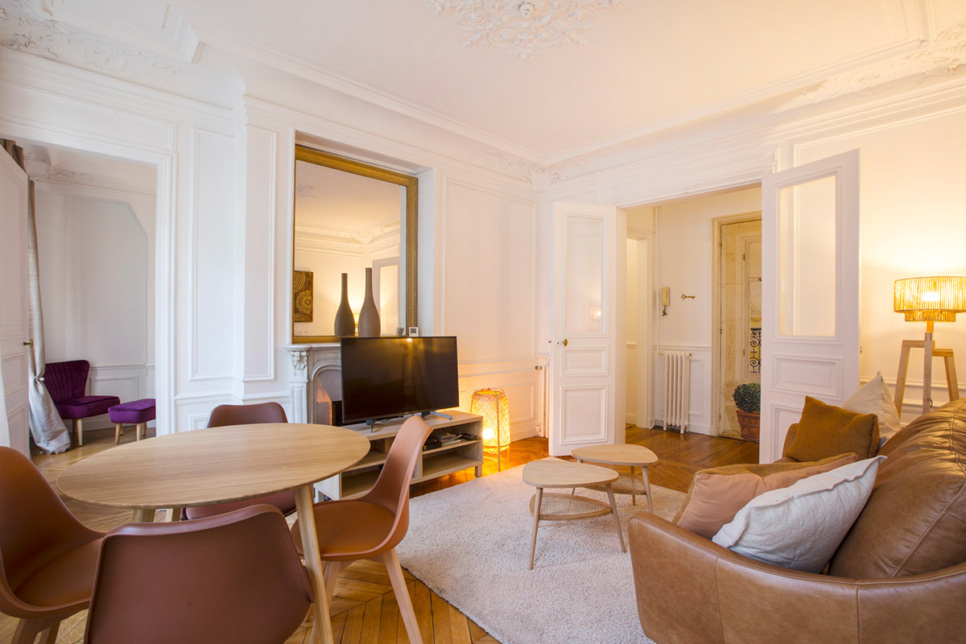 Torn between two
However, Timothy is still hesitating over the apartment proposed by his company. He skims over the page showing the furnished apartment he likes. He needs to fill out the reservation request if he doesn't want to risk losing it. He decides to ask his wife Mia for advice. He can hear her working in the studio next door. He calls her:
" Honey! Could you please help me choose? Look, I've just found an apartment that I like. It's located inside Paris but is not too far from my office in La Défense either. It's a Hausmannian building, in a quiet street, close to Parc Monceau. I'm tempted to say no to the one the company offered me in Courbevoie. What do you think? "
She says from a distance:
" I can't help you choose right now; I've just started glazing ceramics! You know what? Tell me more about it! Describe it to me. I'm listening.
– So, the apartment is extremely bright. The entrance opens on to a hall with a narrow corridor which gives access to all rooms. With mouldings and panelling on the walls, parquet flooring in the main rooms, it's an authentic Haussmannian apartment. To the right is a long, spacious living room with two large windows at the far end. Next to it is the spacious master bedroom with a walk-in closet. To the left of the living room, there's another bedroom, a beautiful bathroom with a shower enclosure and a bath, and at the far end, the kitchen…small but very well equipped.
– Well, since you wanted to take advantage of your trip by taking cooking lessons… You'll be able to practice! Tell me, is there any storage space?
– Yes, just about everywhere.
– Which floor is it on?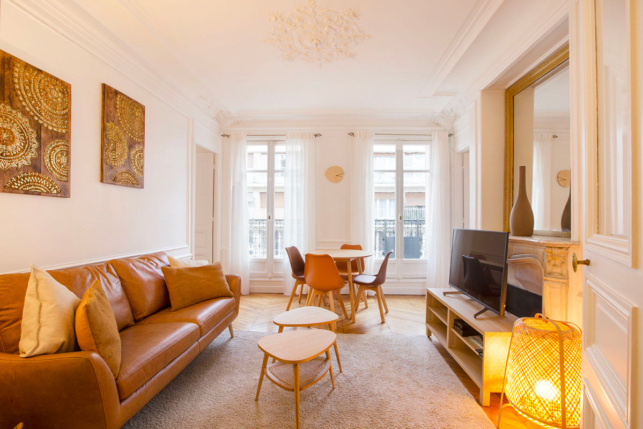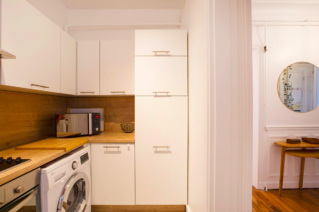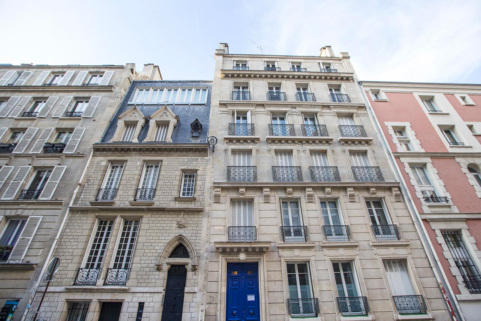 – Let me check. Fourth floor!
– That explains why it's so bright.
– Ah, but there's no lift…
– Uh-oh. You can't have it all. But it's ideal for you to stay fit. Go on, tell me what you like about this place.
– It's elegant but not too fussy. There's a natural, authentic style to it. It's warm and open. It looks rather masculine, in my opinion. You know, I look at it and I see myself living in it. In fact, it looks a bit like Billy's house in Aalborg, a typical Danish interior but in Paris.
– Wow! You're completely in awe. What are you waiting for? You really don't need my opinion.
– I do, in fact, I can't always trust my impulses.
– Okay, okay, okay. You're right. Let's be practical. Which one is cheaper?
– Mine is!
– See, you've already chosen this one. "
>> Selection of furnished rentals for professionals travelling to Paris
---
Cooking classes in Paris
If, like Timothy, you want to learn to cook like a chef, join a class and try your hand in the kitchen.
A perfect gift and the ideal way to play around with flavours in a fun environment, cooking classes in Paris have become quite popular in recent years. On the menu, a palette of all flavours: sweet, sour, and the grand themes of the art of cooking such as fresh market cuisine, bistro cuisine, world cuisine, French cuisine, and more. Whether you want to learn about haute cuisine under the guidance of Michelin-starred chefs or hone your skills with top gastronomy professionals, you will find advice and practices that will be a delight to your palate in all these places.

Offers a range of affordable classes, both on site and online (a very useful option in times of lockdown and social distancing). Bookings can be made on their website, in just a few clicks.

Invites you to share a unique experience in the heart of the Ritz Paris kitchens. Under the friendly guidance of the Ritz chefs, you will learn to replicate the techniques and recipes of this two-star restaurant. Child-friendly! A programme tailored to 6-13 year olds is available. Good ideas: the parent-child duo course and the class translation available in English. Bookings can be made on their website, in just a few clicks.

Aimed at beginners and aficionados alike. On the agenda, 13 major themes to discover or hone your skills. 'Plein feu', tradition, events, service rush…oenology and even coffee-making! Each class is a promise of gourmet discovery. Bookings can be made on their website, in just a few clicks.