You may have noticed that demand has recently been quite high for top-floor apartments. They are even more coveted because they are rare to come across. This might sound obvious but there is only one top floor in every building. However, it isn't because there aren't enough of them on the market that they are valuable, but because of their outstanding qualities. Such apartments are inspiring, they foster introspection, balance, and optimism, make us feel reassured and are better for our health. All of which have become imperative now that Covid is here to stay.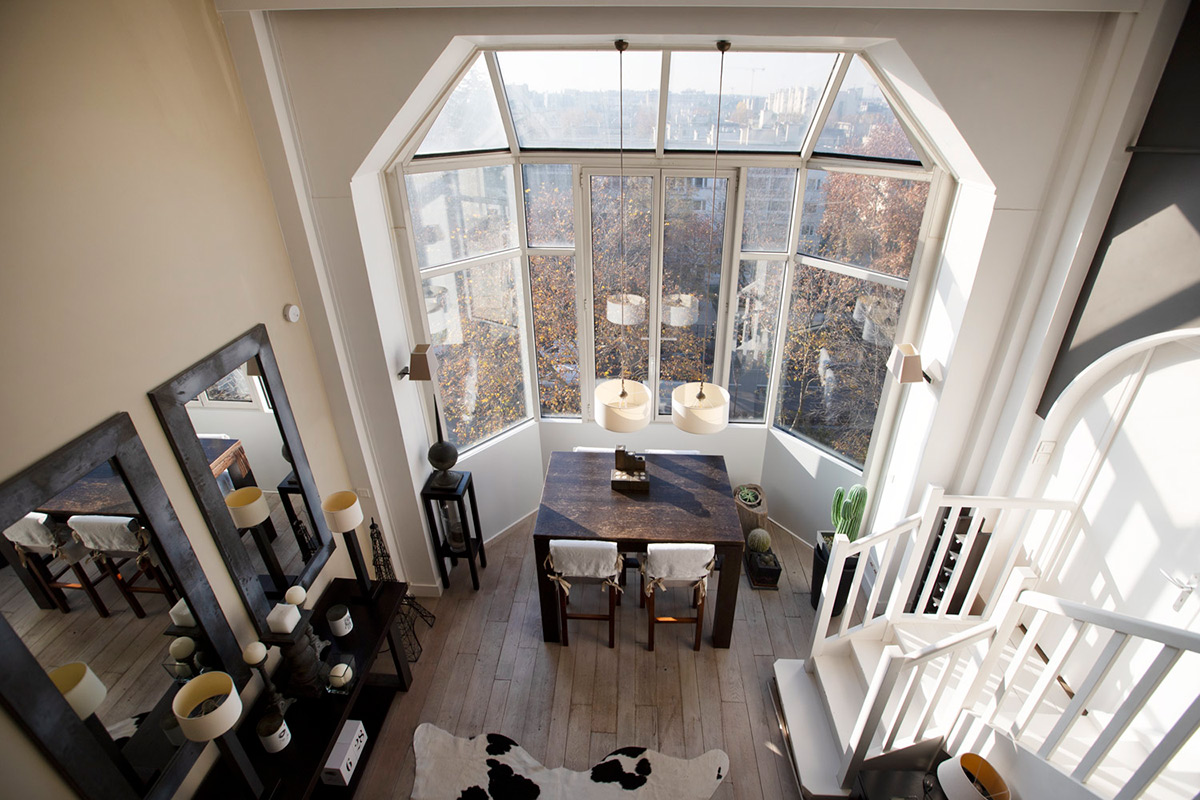 Gaining some height
Whether you are beneath the roof of a stunning Haussmannian building or at the top of a modern construction, the higher you get, the more peaceful you feel. Up there, you have a commanding view over everything: Paris belongs to you. Besides, most executives are not misguided. Where do you think they wish to set up their offices: on the top floor or the ground floor? You see where I'm going here. Less noise, more air, no neighbours opposite: on the top floor, the city becomes quiet while remaining easily accessible. It is inspiring, energizing, and soothing. It's as though the top floor makes it possible to live in the heart of the city away while feeling as if we were in the countryside, taking advantage of city life without any of the downsides.
Broadening your horizon
On the top floor, the view is breath-taking, stretching as far as the eye can see. You can enjoy wide open spaces. And if, on top of it all, you have a terrace, you reach a whole new dimension. Surrounded by the sight of roofs made of zinc, stone or decorated in greenery, with the sky as your horizon and the Eiffel Tower, Notre-Dame and the Montparnasse Tower shining like a beacon in the night, you feel as if you've grown wings. The great outdoors is laid out at your feet. You must admit that this is priceless. Although, and this is the flip side: top floors are on average 20% more expensive, whether your rental is furnished or not. One important fact to keep in mind before letting yourself be tempted by an apartment for rent in the eaves.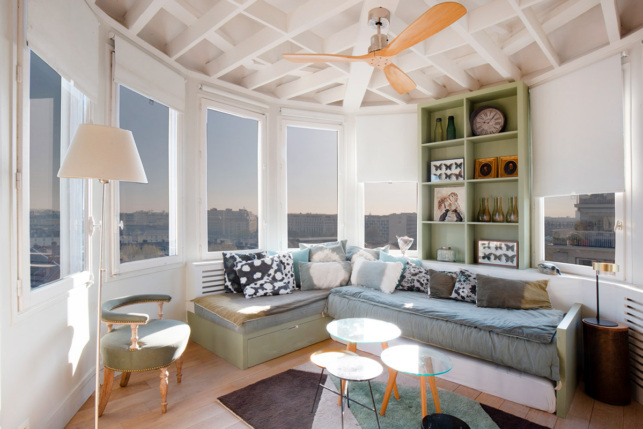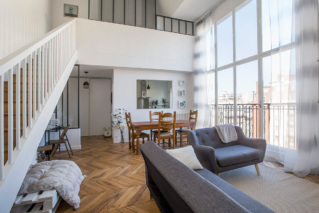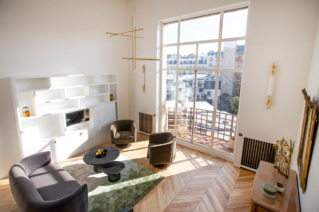 Living in peace and quiet
Far off from hectic streets or boulevards, shielded by the trees and greenery that are starting to feature more and more in the city, you feel like you are living in your own bubble. You are separate from all the rest. The sounds of the capital are muffled, like a gentle murmur in the background. And to top it all off, no one lives above you. No insensitive neighbour pacing throughout their apartment at night. Fewer chances of issues arising with your neighbours if you suddenly decide to host an impromptu party. Only the sound of the rain falling onto the zinc roof can potentially disrupt your sleep but how romantic! If you fear you can't put up with it, simply check the apartment's sound-insulating properties before moving in or ask the owner for some changes. There's always a way.
Seeing life through rose-tinted glasses
All top floors are bathed in natural light. Sunlight pours through the windows, and even in overcast conditions, there is optimum brightness. Nothing helps you fight fatigue or boost your immune system better. There are many health benefits to light: sleep, mood, memory, learning abilities, etc. When it enters through the retina, light regulates our metabolism and resets our biological clock. And what about the joy felt when enjoying a wonderful sunset or sunrise? When the sky is aflame with the burnt orange of the setting sun, we are at one with nature. A magical moment you can experience every day. Living on the top floor surely is the best natural antidepressant!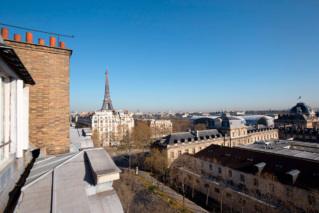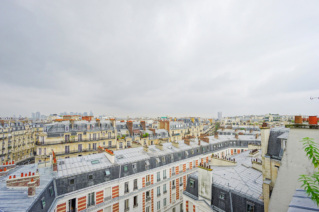 A feeling of security
Top-floor apartments are rarely targeted by burglars. They are harder to access and more dangerous to thieves, who can easily be spotted going up or down the stairs, so these apartments are protected because of their location. You only need to check and secure the roofs to make sure there is no potential access for trespassers. Then you can sleep soundly with your windows wide open without fear of a break-in. Another benefit is that there will rarely be any water damage because of neighbours living above, or any unscheduled work causing a racket above your head. In a nutshell, top-floor apartments are like townhouses without any of the drawbacks.
Protecting from pollution
The higher you get, the better the air quality. Less pollution means less dust: top-floor apartments are a healthier choice. The air you breath up there is cleaner. In 2008, Airparif measured air quality in different locations in Paris city centre at varying distances from the périphérique ring road. As you would expect, the study showed that the closer you live to the ring road, the higher the number of pollutants you are exposed to. In other words, three times as much as in neighbouring districts. But they also placed sensors on several floors of the most exposed buildings and noted that levels of pollution decrease as you move up to higher floors. Very high on the ground floor, pollution levels decrease by 36% from the second floor upwards!
How to choose the best top-floor apartment for you
Ideally, you should move to an apartment with a view on the 6th floor, or even on the 7th floor of a Haussmannian building. Top floors of many Parisian buildings used to be deemed non-noble and reserved for servants, who lived in chambres de bonne or "maids' rooms" with shared toilet on the landing, but today they have been converted into luxury apartments or lofts. If you purchase or rent a top-floor apartment in Paris, be careful with the attic insulation, because it can get hot in summer and cold in winter. For instance, make sure the framing and roofing have been recently renovated. You can also seek the approval of the managing agent to install air conditioning to avoid being exposed to high temperatures.