We are pleased to present to you the work of an interior designer with a bold use of colour: Marie Lacote. Without hesitation discover one of her creations, a small two roomed apartment, situated in the 7th district of Paris.
Surface area: 463 sq. ft.
Renovation duration: 9 months
Architect: Marie Lacote @TheVelvetJungle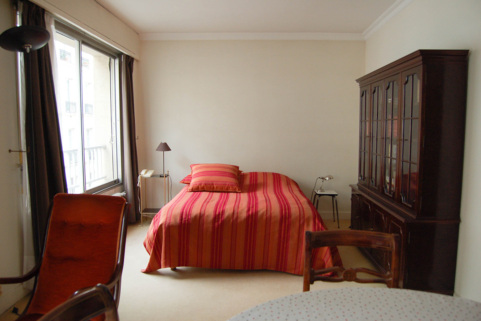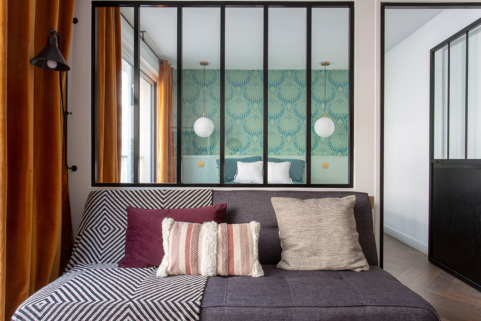 What are the advantages of this apartment?
Well first of all, the location is undeniable. It's one of the chicest neighbourhoods in Paris, with so many wonderful sightseeing spots around it. It's also a great mix : the neighbourhood is lively but the street is quiet and so is the building. So it's a nice little haven from the city.
Secondly, the shower. I am speaking from experience here, the shower is so big and wonderful, for this kind of apartment size you don't usually get this much luxury in the bathroom ! So it's a very big plus for me.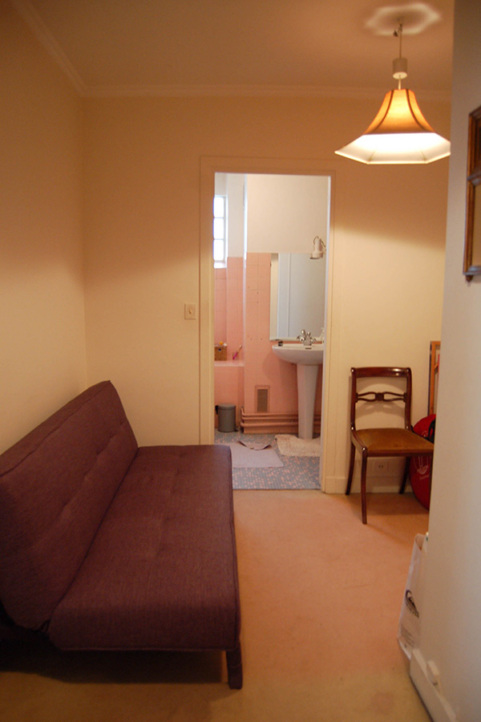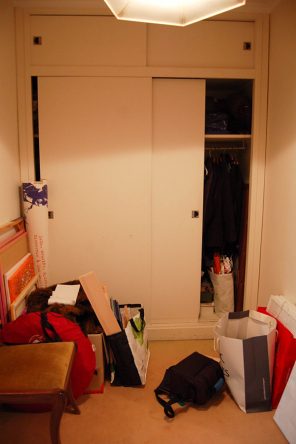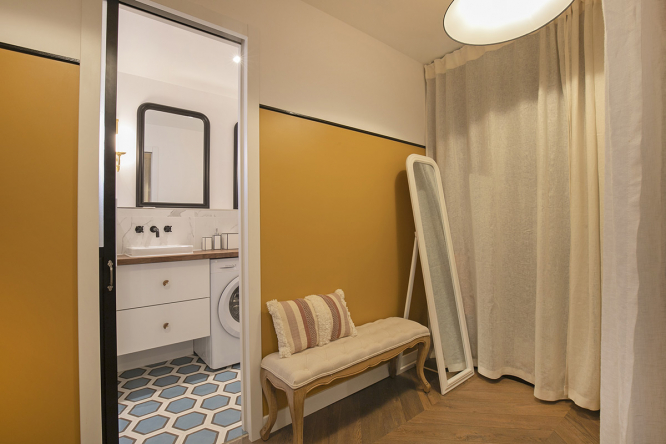 I also made sure to incorporate a lot of closet space to accommodate every type of renter. Since everything else is provided I wanted to make sure people could bring every piece of clothing they own and still have leftover room for luggage and anything else they need to store.
But what I like most, is that we managed to fit a lot without it feeling too crowded. We have a full dining area for up to four people, a full living room space too, and a small desk area in the main space alone.
There is a lot of closet space but I kept the bedroom clear of any storage so you have this zen space containing only a bed, to make the room appear even bigger. And while the apartment isn't very big in square footage, it feels much roomier with this new layout.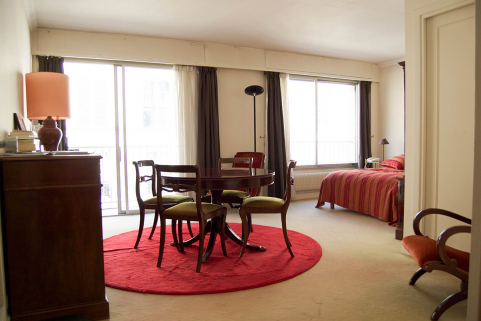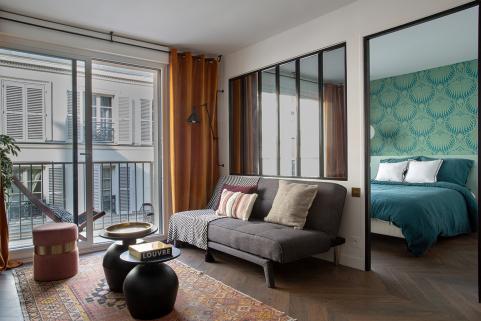 What problems did you come up against?
The renovation went pretty smoothly to be honest, the apartment was in very good shape overall because it hadn't been used daily for years, so it was just a matter of bringing everything up to code and adding a few modern features. Most of these things won't be obvious from the pictures actually, because the bulk of the work we did was change the bay windows, create a false ceiling for the electricity, replace the plumbing, etc. We did hit a big rough patch while removing the carpeting to put in wood floors. It was so well glued-on that nothing worked to pry it out, including specialised machines ! So I felt very bad for the poor guys who worked on ripping out tiny bits of old carpets for hours on end !
Other than that it was all pretty superficial changes. We just added a wall to create the bedroom, installed more functional Ikea cabinets in the kitchen, re-arranged the bathroom layout and painted and wallpapered everything over ! I'm very thankful we had such a good base to work with, we avoided a lot of the usual headaches…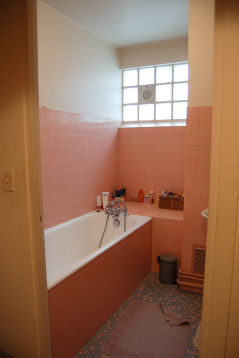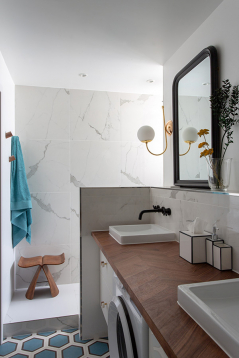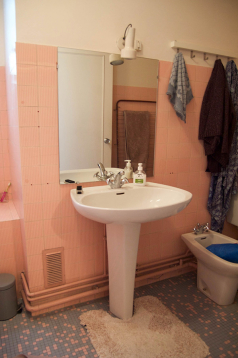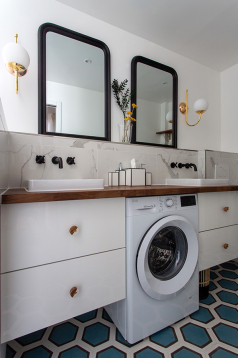 Which room did you most enjoy decorating?
Hands down, the bathroom. I was more and more in love with that room every step of the way, and it was the clearest vision I had from the start, out of all the rooms. I never changed anything from my initial ideas (back from last november) and it came out absolutely perfectly ! While it was being put together I would just pop my head in ever 30 minutes and smile at the blue tiles or the counters, or faucets. I just love every inch of that space. It's so rare to get a bathroom this bold or this big in a small Paris apartment.
Of course, now I look at my own bathroom and I'm extremely jealous, but you know, that's a good thing… !
How did you define the colour scheme?
The color palette actually kind of imposed itself to me rather than the other way around. Early on I decided to keep the vintage yellow backsplash in the kitchen because it was in pristine condition and it did have some potential vintage flair. While it wasn't exactly to its advantage with the wood cabinets of the old kitchen, I did find it pretty and destroying a perfectly preserved tile just to replace it with something maybe more modern or more neutral felt very wrong to me. But it meant keeping a very big splash of yellow in the apartment, since the door was going to be made of glass, therefore making the tile apparent from the living room.
So I thought if you can't beat 'em, join 'em ! I started looking for yellow paints that would appeal to me visually and I happened upon the most beautiful shade of Farrow & Ball paint ever. So that was what sold me, once I saw that paint color, I wanted it everywhere around the apartment !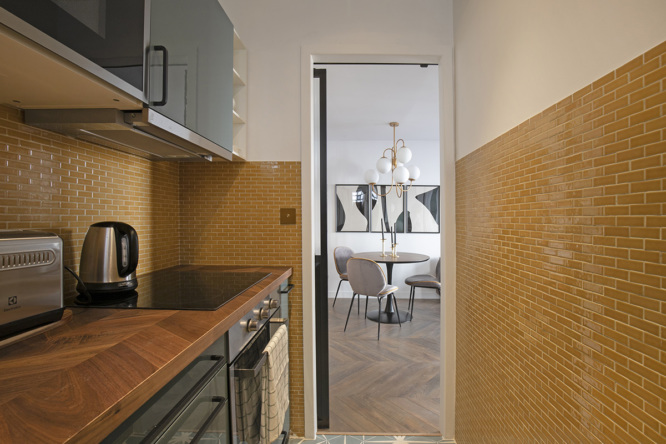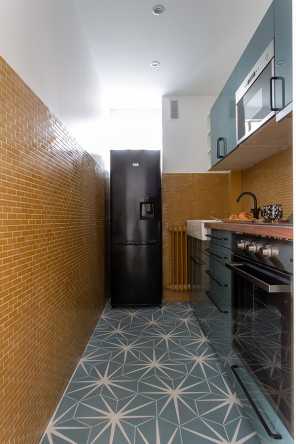 The blue tones came the same way, from the bathroom tiles. I saw them very early on and knew I wanted this exact color, so I just played with it around the apartment, mixing in different shades but never right next to each other so they all seem to match. Obviously yellow and blue are very complimentary so that was an easy mix. Finding kitchen cabinets and the wallpaper in the bedroom in those shades though, was the icing on the cake ! It's a very interesting mix when you're in the apartment because there's obviously a lot of color but it's also very relaxing, they have that vintage tint to them that makes them very soothing. They're both kind of a half-tone, which I really love.
Any funny stories to tell us?
Well this apartment is very special to me for personal reasons. It belonged to my grandfather when he worked in Paris in the 80's and he kept it as a family pied-à-terre when he moved away. It's always had a lot of potential but it was functional enough that it never warranted a big renovation, until last year when he asked his daughters (my mother and aunt) to take the reins and remodel it to put it up as a rental. Luckily I'd gotten my interior decorating degree not too long before so he asked me to spear-head the project. So I got to share the process with the whole family along the way and they even pitched in for some of the work along with me, painting, sanding, and putting together some of the details. I like to do a lot of the finishing touches myself when I can, so it was great to have all those helping hands, people who had used the old apartment for their stays in Paris for years and years and got to see the big transformation (and even enjoy it for a couple of days before we rented it out!). Sadly my grandfather passed away a few weeks before he was scheduled to come and see the place finished for himself but we all agree he would have been as proud of the result as we are, and I'm very happy I got to create a beautiful apartment with him as an inspiration.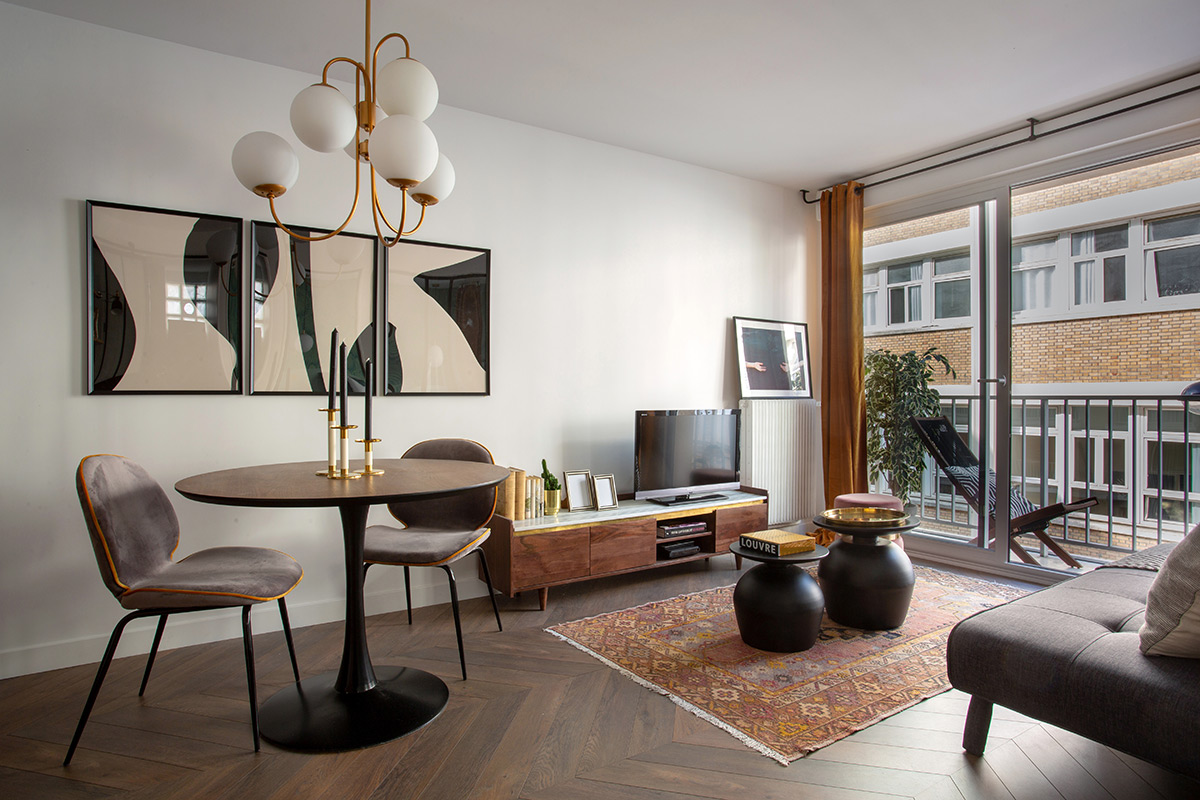 What is your favourite item in this apartment?
That is a tough one ! Since this was a very personal project for me, I put in a lot of time and thought into everything, but if I had to choose, I do have a huge weakness for the chandelier in the dining area. It's so opulent and classic, while still being modern somehow, it just really took my breath away. I actually saw it in the U.S a couple of years ago from a very big vendor but there was no way to ship it to France. I started looking at other pieces but nothing felt as right as this one. Four months later, I saw it on Westwing, there was one available for 24h. I must've looked at the site at exactly the right moment, it was complete serendipity !
Of course this is just one, but there is so much I love : the bedroom wallpaper, the bathroom and kitchen floors, the media console, the stool in the shower… Everything basically !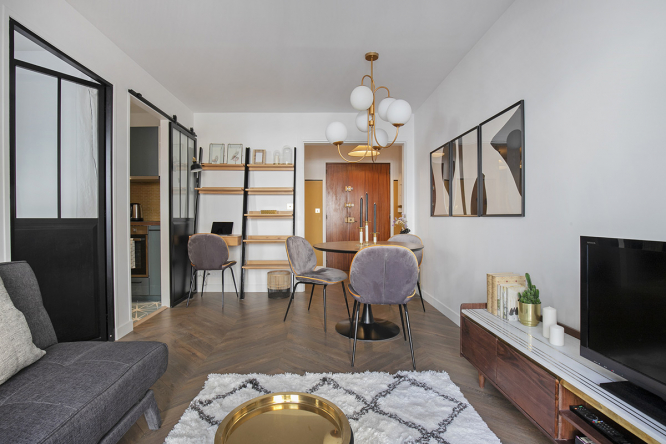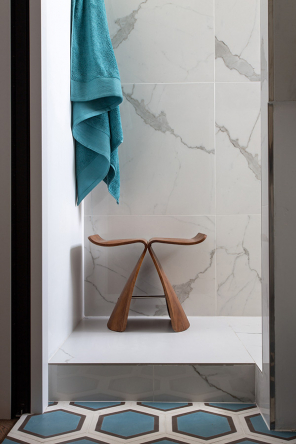 What were your sources of inspiration?
I get inspiration from absolutely everything : travel, fashion, art, music, movies, and other designers of course… And I do believe that the space influences the design a lot too, you have to bend to it to some degree to make it feel organic.
For this space, I had carte blanche – which is very rare – and a gift for designers. I wanted to take into account both the neighbourhood's rich history, and luxury too to some degree, but also make it feel contemporary for 2018. So it's a little retro but not in a way that's too "in your face". I did choose materials that had a very rich feel, like a classic chevron pattern for the floors, marble, gold and velvet accents for warmth. I'm not a big fan of "neutrals" in general – I'm all about color – so for this space, it was about finding a way to make it colorful, but with a palette that would suit a lot of people, since it was going to be a rental space with a lot of turnover. And hopefully, I succeeded !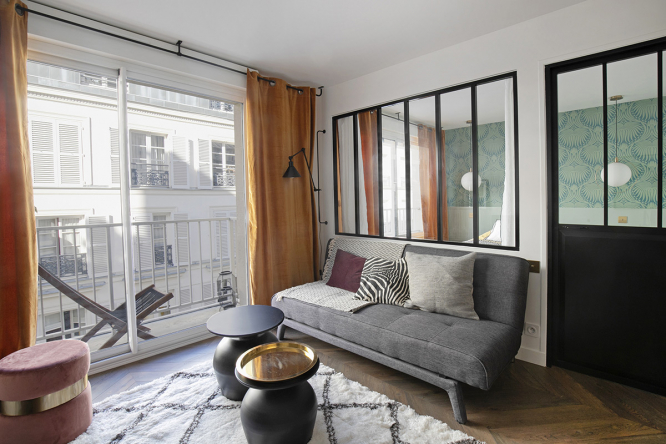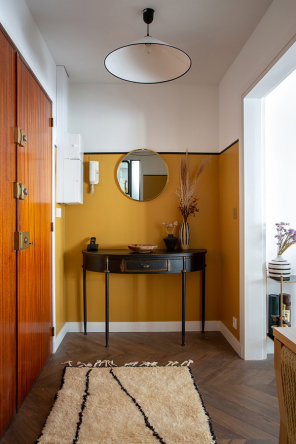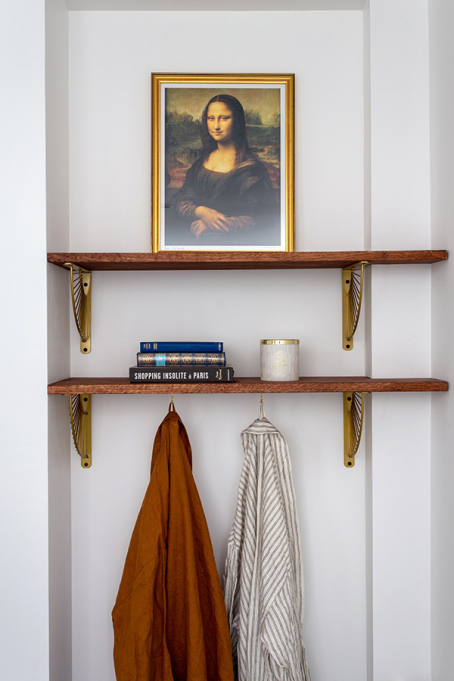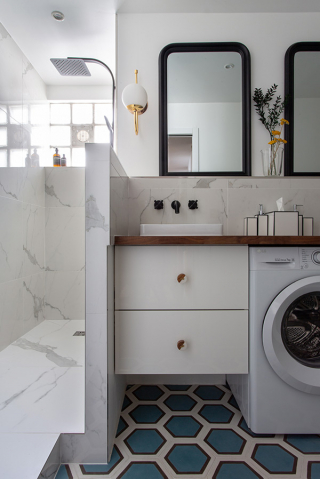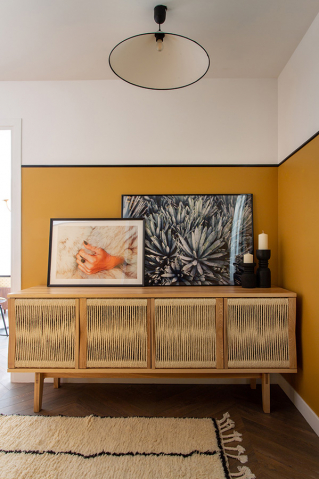 Where can we see your work?
The apartment has been featured in a few decorating websites around the world so far, which has been really unexpected and wonderful, so I'm still basking in the aftermath a little bit !
But aside from that I've been working for a U.S. e-design company for over a year now (Havenly), and as of January I'll start taking on my own clients as well, as "Velvet Jungle Interiors".
So I'll be working on real life projects here in Paris, while simultaneously helping design homes in the U.S., U.K., and hopefully other places around the world soon. So it's a very exciting new year for me !
If you're interested in my work you can check out my website www.velvetjungleinteriors.com (available in French and English) or follow me on Instagram @thevelvetjungle!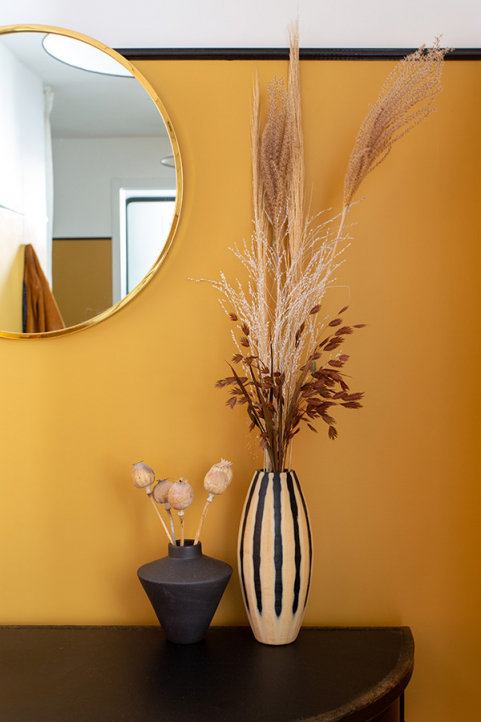 Furnished one-bedroom apartment available for renting
---
Marie Lacote's favourite places in the neighbourhood
Well for walking around, obviously, you're right near the Seine, so a nice jog or walk over there is always a treat. Go grab a delicious walking-around ice cream Rue Cler, (it's the prettiest little paved street). The neighbourhood has some really good restaurants that I can personally highly recommend.
La péniche Rosa bonheur sur Seine
For a drink especially on hot summer nights
Port des Invalides, 75007
01 47 53 66 92
Le Pasco
If you have a special night planned or want to treat yourself – southern French cuisine, with lots of delicious fish options
74 Boulevard de la Tour-Maubourg, 75007
01 44 18 33 26
Les Fables de la Fontaine
Restaurant with a classic gourmet menu
131 Rue Saint-Dominique, 75007
01 44 18 37 55
Villa Thaï
An amazing Thaï spot
23 Boulevard de la Tour-Maubourg, 75007
01 45 51 25 71
Bellota-Bellota
A scrumptious Iberian deli
18 Rue Jean Nicot, 75007
01 53 59 96 96
Bar du Central
For lunch, this beautiful, retro-themed bar never disappoints
99 Rue Saint-Dominique, 75007
01 45 55 90 75
Carnar
A fabulous little shop that sells all things Argentinian, even cuts of meat, ranked amongst the best in the world!
13 Rue de la Comète, 75007
01 47 05 96 61
Boulangerie Nelly Julien
Do yourself a favor and go grab a croissant at this boulangerie every morning to increase your happiness levels!
85 Rue Saint-Dominique, 75007
01 45 51 88 77