Lucas and Théo, 17, are childhood friends from Orléans. They were both accepted to medicine in Paris and enrolled in the same private tutoring programme. Their parents, wishing to support them during this decisive year, decided to rent two fully furnished large studio apartments at the beginning of the summer.
Both of the furnished long-term rentals are close to their university and within a short distance of each other so that the two students can support each other. Any additional half hour saved to study can make a difference! On top of that, both mums insisted on scheduling two hours of cleaning and one hour of grocery shopping per week. There was no way they could let their children worry about all this while studying. They have better things to do and wouldn't know how to either! Really?
Lucas' furnished studio – Rue Fabre d'Eglantine, Paris 12th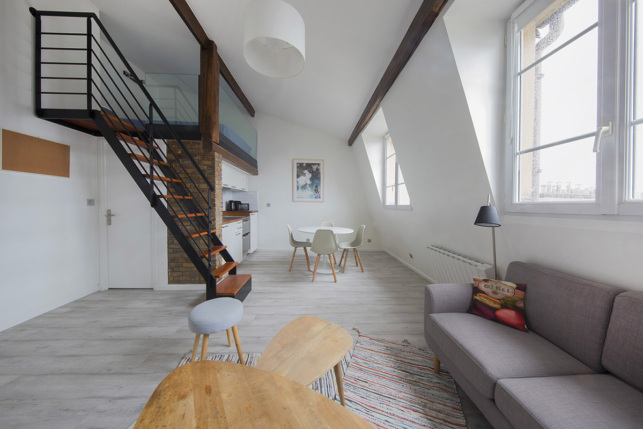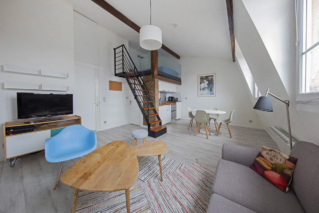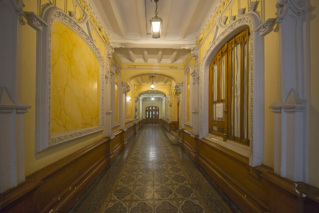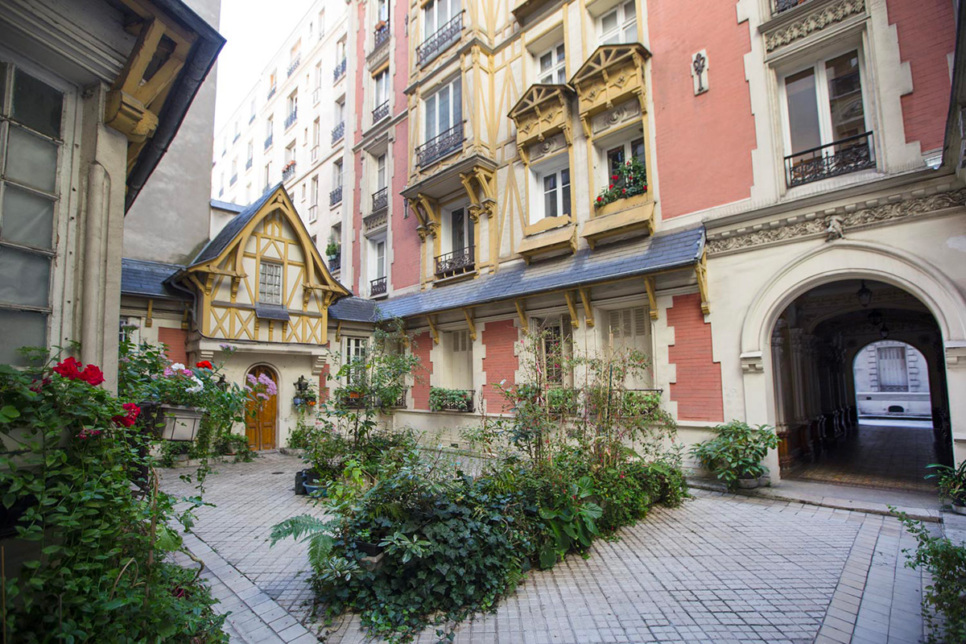 Théo's furnished studio – Rue Popincourt, Paris 11th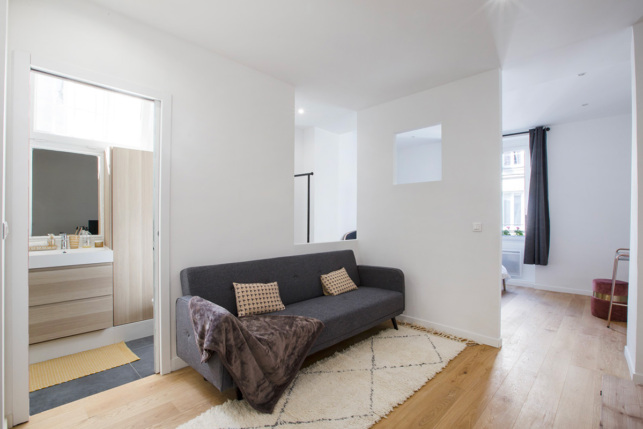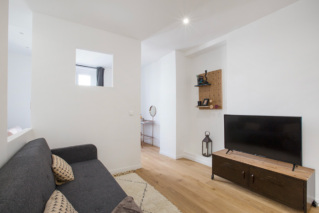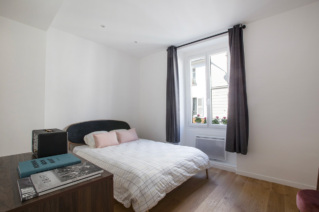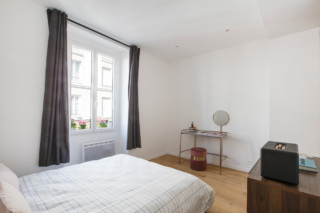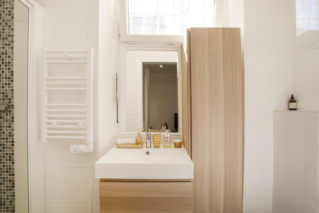 It's been a few months now that both young men have been living alone in Paris. Sophie is pacing in the street. She is fidgeting with Lucas's spare key to his studio apartment. She can no longer wait and decides to ring Isabelle.
"Hey! Have you heard from Théo? Is everything okay?
– I think so. He sends me a text every night. What about you, have you heard from Lucas?
– Not since Monday.
– That was only three days ago though.
– I'm in Paris for an appointment. I've got a set of keys to his studio, and I was thinking of dropping by to leave him some food and see how he is managing on his own. I can also leave some groceries for Théo if you'd like, you can pay me back later.
– No, thanks: don't worry about it, Clara does his grocery shopping on Wednesdays. He has everything he needs and the marché d'Aligre is just around the corner. But I wouldn't drop by without calling first. They've flown the nest! So having their mom drop by unexpectedly is a bit intrusive!
– You really think so? … Maybe. You're probably right. I'll call him first. Thanks for the tip! I'll let you know."
An hour later, Sophie calls Isabelle back, and she immediately answers the phone and asks:
"So? Any news?
– They're fine, better than expected: don't worry! I did what you said and called my son before showing up. I was surprised, he answered my call. I thought he was at university. He was working on one of his tutoring classes at his place, with Théo. They were actually pleased to see me! I popped up for 10 minutes. It gave them a short break and it was the opportunity for me to take a quick look around and check if everything was going well. Believe it or not, the studio was impeccable. Not even a sock lying on the floor! The apartment was spotless. He had even just put the washing machine on. I can't believe it! He used to be unable to tidy anything up in his room back at home! I have to say I'm a little concerned!
– Yeah, I understand. If only the same thing would happen to Théo!
– Well, you won't believe this. Who do you think taught Lucas to use the washing machine?
– …"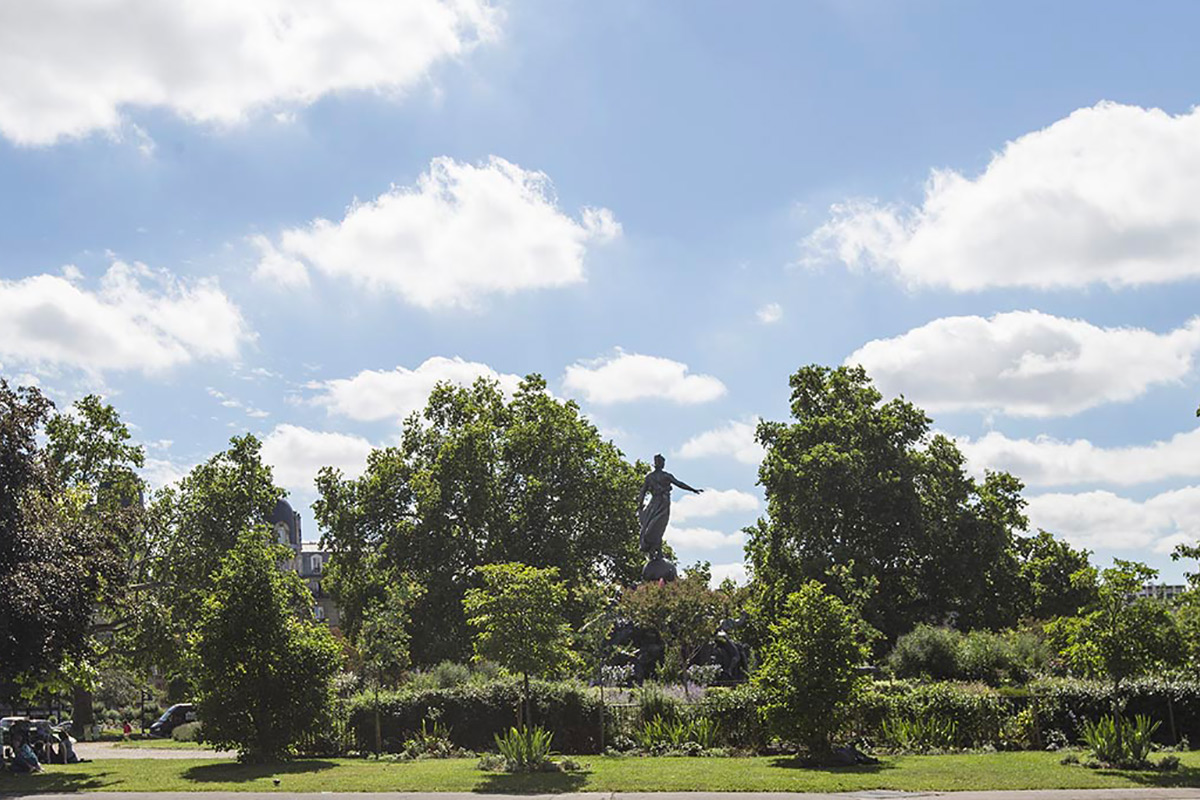 >> Selection of furnished rentals for students in Paris
---
The best Parisian markets
Among the 100 farmers' markets where Parisians can get fresh produce, six are absolutely remarkable and worth a visit.
The fun one
Le Marché d'Aligre – 3 Place d'Aligre, 75012
Métro : Ledru-Rollin (ligne 8)
Opening hours: every day, except Mondays, 7.30am – 1.30pm (2.30pm Saturdays & Sundays)
The friendliest, most eclectic covered market in Paris, which also happens to be one of the cheapest ones and open the most days (6 out of 7), is an institution of the 12th arrondissement.
The cosmopolitan one
Le Marché de Belleville – 63, boulevard de Belleville, 75011
Métro : Couronnes (ligne 2) ou Belleville (lignes 2 et 11)
Opening hours: Tuesdays and Fridays, 7am – 2.30pm
The most colourful and busiest one, offering the freshest produce, where you will find the cheapest prices with a huge selection of unsold produce from Rungis Wholesale Market. The best value for money.
The eco-friendly one
Le Marché Bio des Batignolles – 34, boulevard des Batignolles, 75017
Métro : Rome (ligne 2), Place de Clichy (ligne 13)
Opening hours: Saturdays, 9am – 3pm
The most authentic one, although sometimes it's more about being seen than caring about organic produce! Always compare prices. That said, this is the place to share pumpkin seed recipes tips and taste astonishing plant-based smoothies!
The historic one
Le Marché des Enfants Rouges – 39 rue de Bretagne, 75003
Métro : Filles du calvaire (ligne 12)
Opening hours: Thursdays, 9am – 4pm / Fridays and Saturdays, 9am – 8pm / Sundays, 9am – 3.30pm
Opened in 1615, this is the oldest Parisian market. It used to supply the whole Marais area. Nowadays, you can go there to embark on a flavour world tour.
The best one for bargains
Le Marché de Barbès – Boulevard de la chapelle, 75018
Métro : Barbès-Rochechouart (lignes 2 et 4)
Opening hours: Wednesdays 8am – 1pm / Saturdays 7am – 3pm
Nearly everything here costs € 1/kg. Located below the elevated metro line, people rush and bustle to fill up their baskets for less than € 20. You'll get a good workout doing your weekly shopping here!
The chic one
Le Marché Saxe Breteuil – Avenue de Saxe 75007
Métro : Ségur (ligne 10)
Opening hours: Thursdays and Saturdays 7am – 2.30pm (3pm on Saturdays)
The most peaceful and spacious Parisian market. It stretches along Avenue de Saxe and offers a stunning view of the Eiffel Tower. Plenty of choice and a friendly atmosphere, which is surprising in this rather well-heeled neighbourhood.