We meet Bianca Marvin, graphic designer and artistic director, in rue Saint-Honoré, Paris 1st arrondissement, where she decorated her friend's furnished apartment for rent. With its unusual interior, understated but sophisticated, this apartment is located in one of the most glamorous streets in Paris.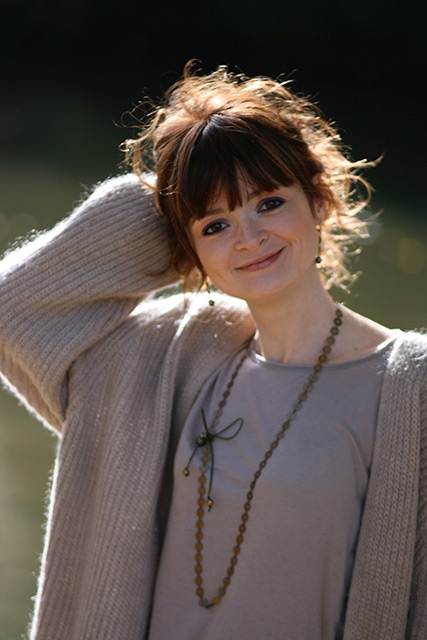 Tell us about your background. Where might we have seen your work?
For a long time, I couldn't make up my mind between studying architecture and applied arts, and I ended up choosing graphic arts.
I now work as a freelance artistic director. My time is divided between business clients, companies that request my help to create their brand and corporate identity and private clients for whom I offer my services in interior decoration.
Meanwhile, I entered a partnership with a friend and we created the brand "Bonami". We create distinctive patterns that we put on wall paper and high-quality signs made right in the centre of Paris. It's really exciting and requires a lot of work and commitment but I'm passionate about it so I don't mind working long hours! Besides, I'm in the process of finalising our new collection which will be available on our website www.maison-bonami.com very soon.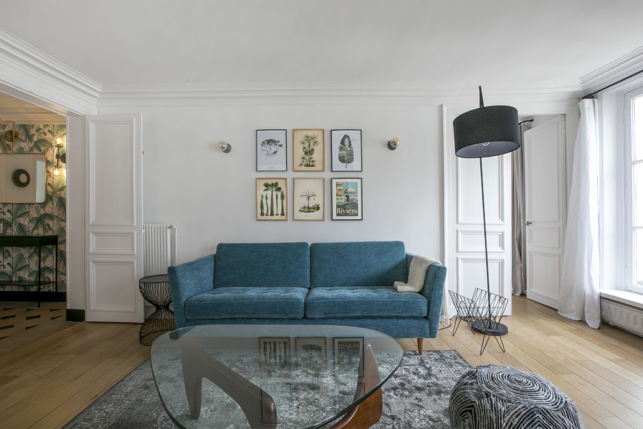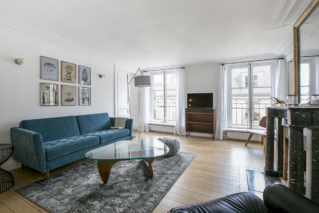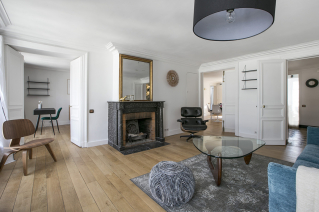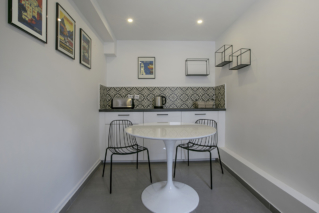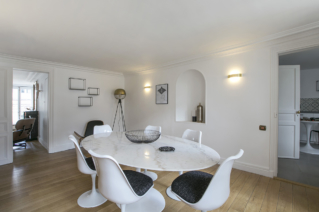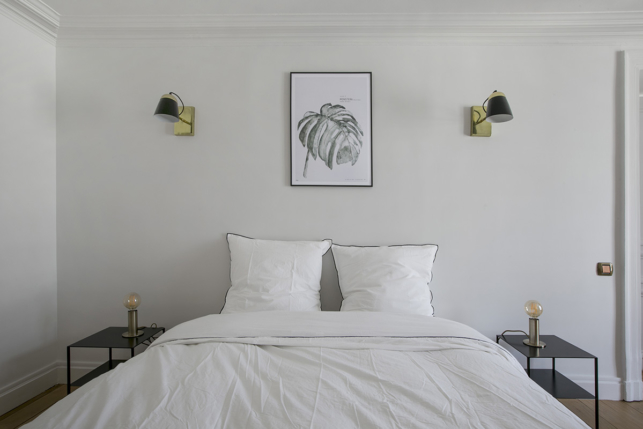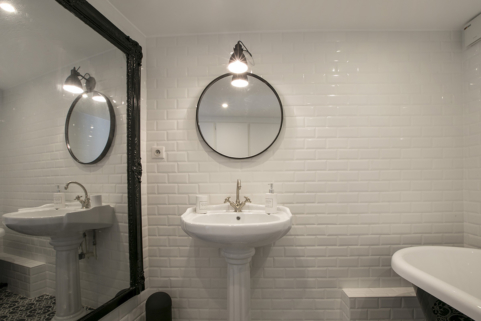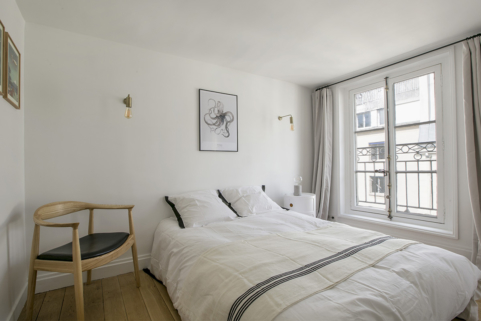 How would you describe the style of the flat?
As this flat will soon be available for rent, it needed a refined, understated and chic design, with touches of originality here and there for a unique look and to appeal to future tenants.
What's hard when you like decoration is to limit yourself to achieve a balance between your vision, your client's expectations and the reality of the property. Unfortunately, it means you can't always do as you wish especially if it's a furnished rental. For instance, I would have liked to add a brush of colour on some walls and other decorating items to make it feel even cosier, like a home.
What inspired you the most when decorating this flat?
The entrance without a doubt! I started from there to decorate the whole flat. It's quite spacious and has original black and white chevron tiles. I decided to go for a subtle black and white atmosphere with a light vintage and exotic touch.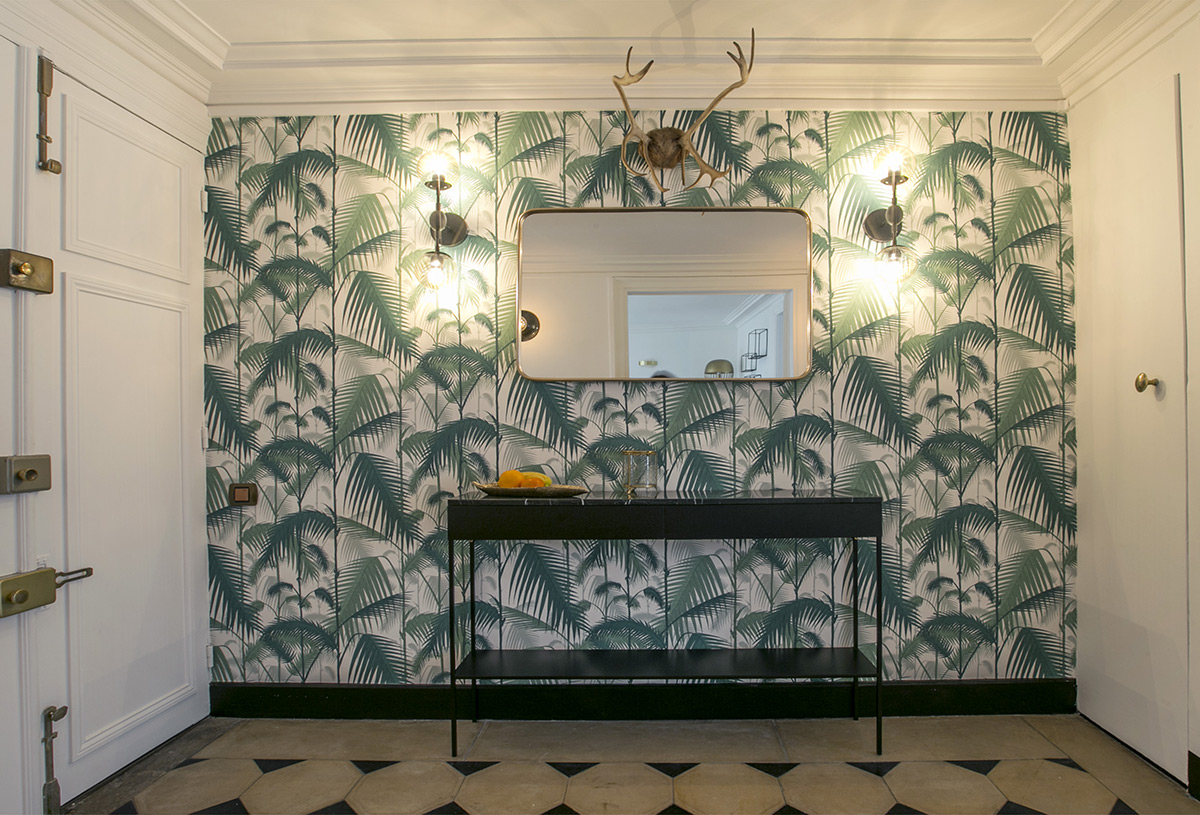 What are your favourite items in this flat?
The "Shell" chair by Voga (a copy of Hand J. Wegner's chair), the "Brenda" floor lamp by Kavehome and of course the "Simone dresses up for a gala" poster by Bonami!
What piece of advice would you give for a successful decoration?
My first piece of advice is to listen to yourself, know exactly what you want and what your decoration favourites are. Think about collecting inspirational decoration pictures or for social media aficionados, Pinterest is a great tool for finding what you like.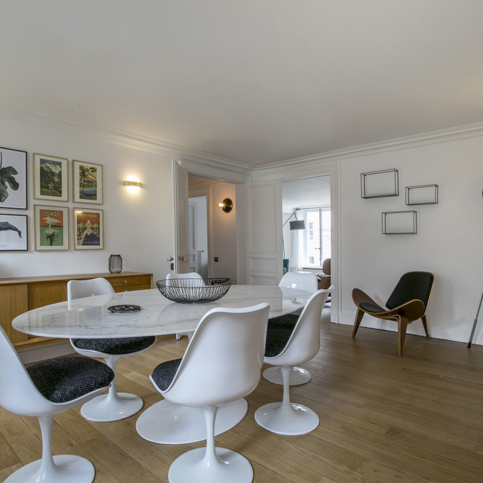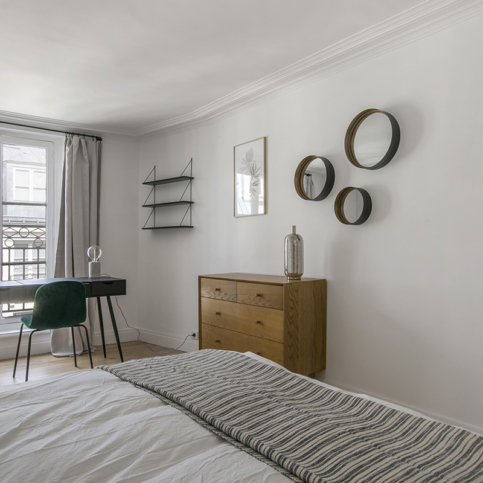 And don't forget these decoration faux-pas:
– Don't buy everything on the Internet, there's nothing like going to the store to realize what size your furniture, lamps and decoration items are.
– Don't feel like you have to cover all walls in a room; a blank wall lets the room breathe.
– Don't be too afraid; for instance, be brave enough to cover a wall with wallpaper, it will most certainly create a 'wow effect'.
– Don't go all out trying to make it look like it comes out of a magazine. Use the magazine to find inspiration and create your own place with your personal touch.
Your favourite quote?
Difficult question! I was at the David Hockney exhibition which I found very inspiring, so here is one of his:
"Art should be about joy."