A narrow street of Paris' 1st arrondissement. An elegant interior design, filled with natural light.
This studio is not the owner's first try: now familiar with interior design and furnishing, she has already bought and tastefully renovated several apartments in Paris.
Having a passion for decoration, and architecture in general, is the common trait of all the Parisian owners we like to portray.
In this furnished apartment, with its perfectly mastered art of minimalism, an elegant spotlight shines on what really matters.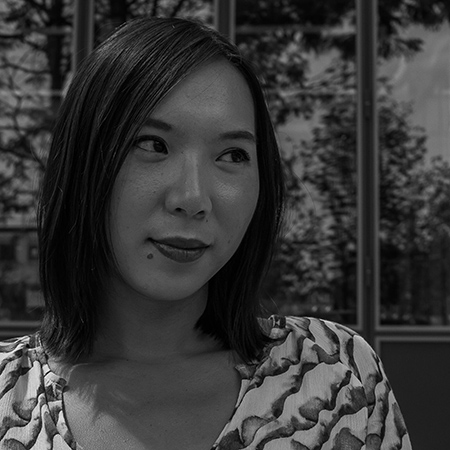 Tell us about your background and your passion for decoration and interior design.
I am not a professional interior designer. I was lucky enough to have the opportunity to stay in gorgeous design hotels when travelling with a family friend. These trips have cultivated my interest for beautiful things. After buying my first apartment, I instantly decided I wanted to turn it into an attractive, functional property that would be as beautiful as a hotel.
Life has made it possible for me to make several real estate transactions on apartments that I designed and decorated myself, along with the support of architects. Each new project is a journey. From the hunt for that rare gem, to working with an architect on the interior design, preparing a decoration brief, participating in site meetings and setting up the final supplies, I devoted myself to this project and had a lot of fun too along the way. Being praised for the interior design of my apartments by buyers and real estate agents is highly encouraging. So I started to buy decoration magazines and tried to get a better feel for good ideas in interior design. Friends have also asked me to decorate their apartment. One thing leads to another, and I ended up setting up a partnership with two friends for real estate transactions and my favourite part, decoration. I have become totally addicted to decoration. The more I do it, the more I want to do!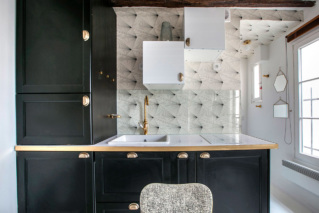 Why did you choose this apartment? What are its best features?
This 215 sq.ft.) studio was initially part of a two-bedroom (645 sq.ft.) apartment. The apartment's unique feature was its landing with two doors. I decided to make a studio apartment and a one-bedroom apartment out of it mainly for financial reasons. The one-bedroom apartment is my home and the studio I rent helps with the loan repayment. That's its prime advantage.
Another feature is its lengthwise layout, which makes it easy to furnish. Having three windows along the outside wall, rather than at the back of the apartment, made it easier. This way, I could divide each living space while maintaining its depth. That is its second asset.
Thirdly, the room looks onto the quiet and bright open courtyard.
The building is quite prestigious and ideally located. You can always give an apartment a makeover but you can't change its location or the quality of the building. That is the last, but not the least important aspect when it comes to investing in real estate.
How would you describe the style of this apartment?
Functional and minimalist. Black and white with golden and wooden details for a cosy atmosphere.
I decorated the apartment myself. I found inspiration in many forms of art, like Art-Déco or 1970s' style.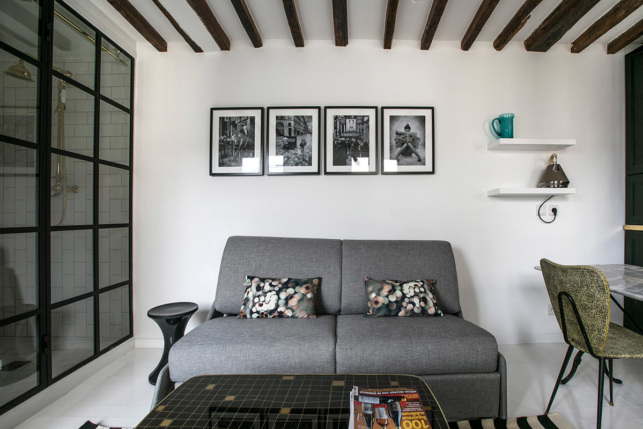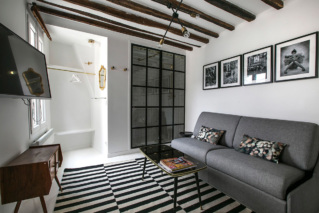 How long did the renovation work last and what were the constraints?
The work took a little over six months. During the renovation, the architect realized the toilet had to be placed opposite the shower because of where the water columns are located. So that's why there is a shower with glass wall separating the section with the bathroom and open kitchen.
What do you like about this neighbourhood?
I like how quiet it is at night and how close it is to stores and restaurants of all kinds.
What advice would you give for a successful furnished rental and decoration?
My advice would be to pick the main colour first, a light one preferably, and then another two or three for accessories.
+ beautiful lighting
+ white linen
"Less is more" according to the famous architect Ludwig Mies van der Rohe.
---
Good addresses in the Louvre district
Baltard au Louvre
Neo-brasserie with a terrace in front of Saint-Eustache church
9 rue Coquillière, 75001
Ô Château
Fine wine bar
68 rue Jean-Jacques Rousseau, 75001
Damigiana
Enoteca and chic trattoria
58 rue Jean-Jacques Rousseau, 75001
La régalade Saint-Honoré
Parisian café culture
106 rue Saint-Honoré, 75001
Clover Grill
The art of open flame cuisine and rotisseries
6 rue Bailleul, 75001
Mumi
A voyage for the tastebuds
14 rue Sauval, 75001
Tour de Montlhéry – Chez Denise
A well-established spot in Les Halles district
5 rue des Prouvaires, 75001
Margús
Colombian tapas bar & restaurant
1 rue des Prouvaires, 75001
Le Comptoir de la Gastronomie
Delicatessen shop, wine cellar and bistro with a traditional atmosphere
34 rue Montmartre, 75001
Pirouette
Gourmet cooking and wines
5 rue Mondétour, 75001
Bachaumont
Restaurant, cocktail bar – festive and stylish
18 rue Bachaumont, 75002
Loup
24/7 for wild appetites
44 rue du Louvre, 75001
Frenchie
Micro-restaurant. French cuisine with an international flavour
5 rue du Nil, 75002
Claus
The House of Breakfast
14-15 rue Jean-Jacques Rousseau, 75001
Dépôt Légal
A contemporary living environment: breakfast, lunch, snack, after work
2 rue des Petits Champs, 75002
Le Garde-Robe
Eating cellar and natural wines
41 rue de l'Arbre Sec, 75001
Pizzeria Popolare
Warm & stylish Neapolitan pizzeria
111 rue Réaumur, 75002