This crumbling little townhouse in Paris' 19th arrondissement needed a complete makeover.
When the owner moved in, they had no idea what was awaiting them.
After five years of perseverance, marked with several moments of despair but with a lot of love, the result is incredible.
Take a look at this furnished townhouse in pictures.
Purchase date: July 2012
Surface area: 43 square meters
Renovation duration: 1 year (August 2016 – August 2017)
Cost of renovation: €121,500
Architect: metamorphOse – Collectif d'architectes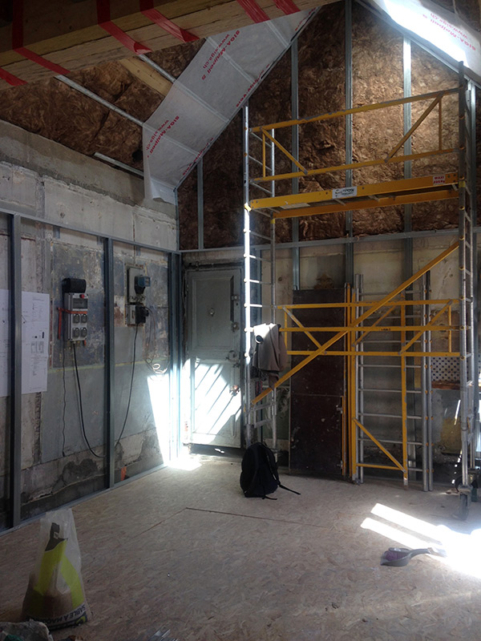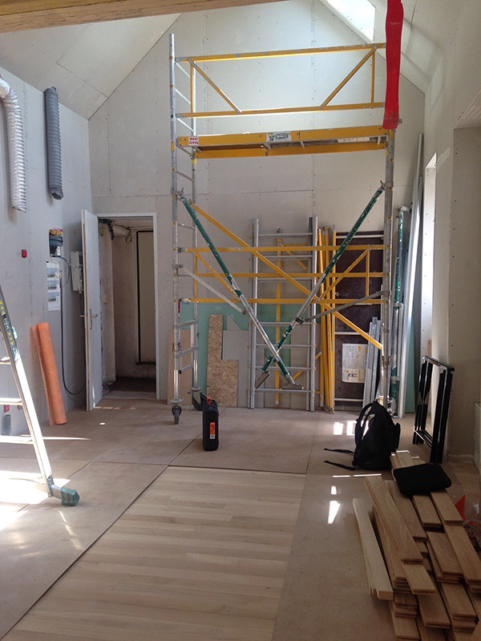 What problems did you come up against?
There were a lot — I don't even know where to start! It was an obstacle-ridden journey.
After doing a roof and floorboard inspection, we discovered the poor condition of the framework. All of the wood was eaten away by termites and dry rot. Everything had to be gutted.
The building was unique in that there were only two joint owners, and they had shared interests in the property. No renovation works could be voted on and approved, therefore, unless both owners agreed.
What type of renovation work did you do and what trades were needed in your property?
The architect for this project was Céline Hautfenne from the metamorphOse architect collective.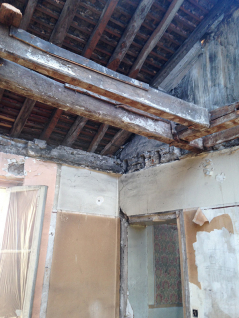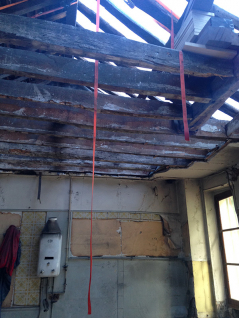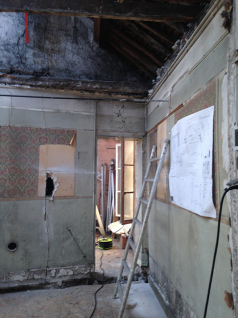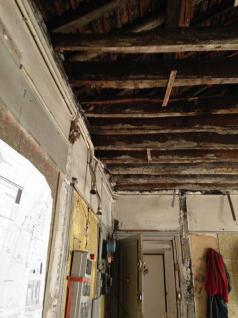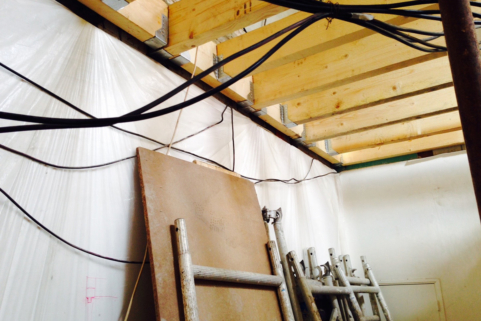 Some of the work carried out:
— restoration of the framework, roofing, masonry and floorboards.
We also wanted to take advantage of the renovation work to raise the roof ridge by one meter.
Just three days after work began, we noticed that the beams supporting the porch facades were completely ravaged and had to be replaced.
— masonry and structural engineer experts called in for beam replacement.
— floorboard removal.
— concrete rebars to increase wall resistance.
— creation of a mezzanine sleeping area.
We won't mention the incalculable delays of the various artisans, which all caused backup delays because we were working with separate building trades for budget reasons.
Despite all the twists and turns (disagreements with the joint ownership, delays, accidents during work, extra costs, etc.) we never gave up, much to the surprise of most of our friends and family. The extent of our mishaps, the impact on the lives of Celine and I, on the contrary gave us an unshakeable determination that we had to see it through, so that these difficult moments would not be in vain. We put all our resources — time, money and energy — into this apartment becoming our victory, even more so because we met just after I purchased the property. It was with pride and emotion that we handed over the keys to our new Book-A-Flat tenant.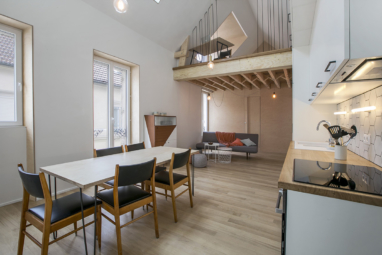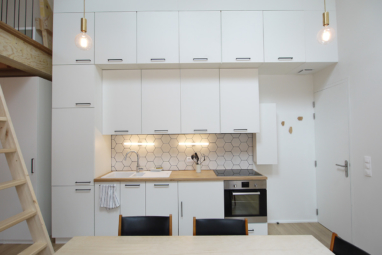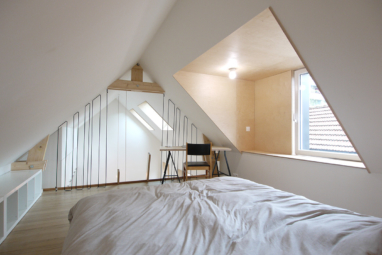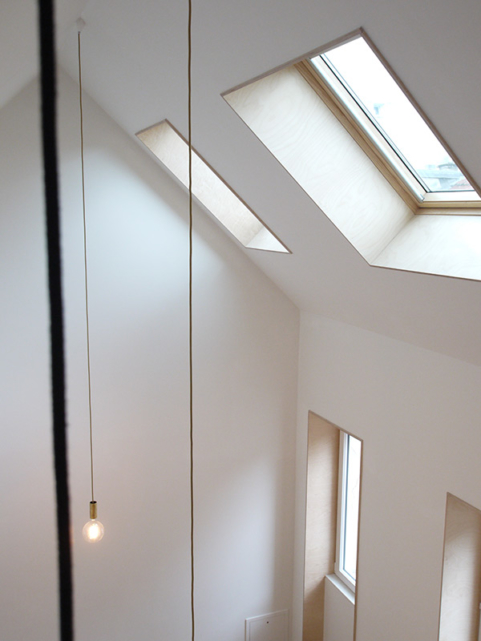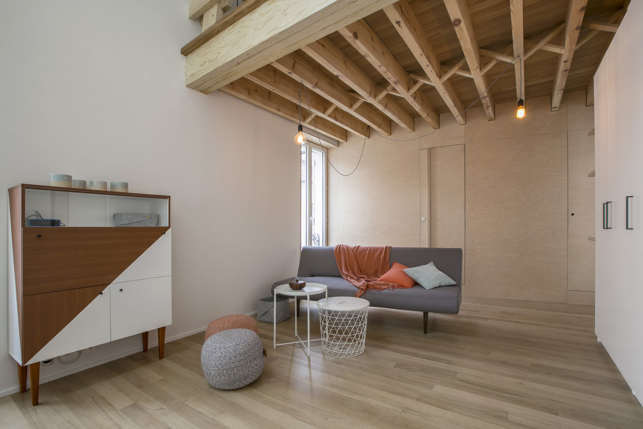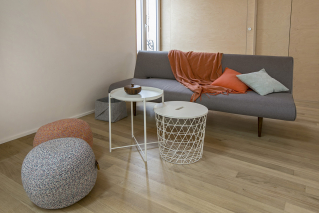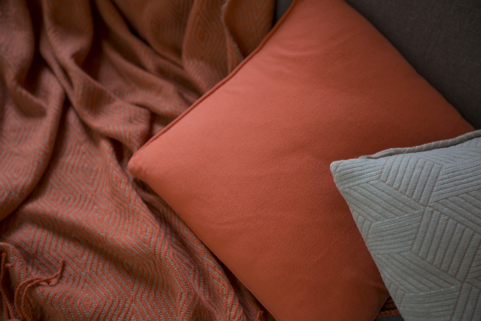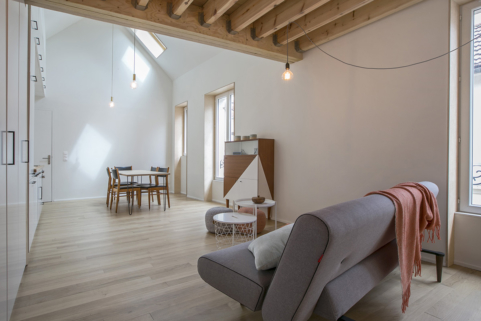 The renovation and decoration of the apartment were specially designed for tenants of all nationalities. It is functional yet cozy. The space is intelligently used and it is custom designed.
The owner opted for a mezzanine with sleeping and office area, accessed by a sliding ladder. Several storage spaces have been built into the kitchen and living area, ideal for a couple.
The kitchen and bathroom feature Italian tiling.
Letting plenty of light in was a key factor for the owner. Three windows in the living area and three Velux windows in the ceiling were installed so that the apartment would be bathed in light, as it is located on the first floor overlooking an inner courtyard.
Any funny stories to tell us?
Well actually, I had bought this apartment five years ago and it was supposed to be my main residence. A few months later I met Celine, my girlfriend who is from Brussels, and also the architect for this project. She drew up the plans, and changed mine for life :)