Aurélie Keime has several strings to her bow. She switches easily between working on the interior design of shops and restaurants, redesigning workspaces and furnishing properties.
She adds a serene, refreshing, balanced and cosy feel to the spaces she works with, whatever their function.
After finishing business school, Aurélie Keime obtained a wealth of experience in different fields, but her passion for decorating remained her guiding star, and led to her setting up as a professional interior designer. That's the story behind Décodeuse.
With the network of expert artisans, designers and interior design stores she created throughout her career projects, she went from job to job with energy and enthusiasm, striving to fully grasp what her customers wanted and creating interiors that are both welcoming and original.
Project description
Aurélie Keime, the "Décodeuse", was asked to work on a project for nine furnished apartments in Boulogne-Billancourt (south-west of Paris).
Surface: 9 x 323 sq.ft. approx.
Type of project: The building had been fully renovated by the owner.
Three different atmospheres / Layout plans / Choosing the furniture, household appliances, decorative pieces, tableware, household linens, etc. / Purchasing / Installation
Duration of work: Preparation 1 month, installation 1 month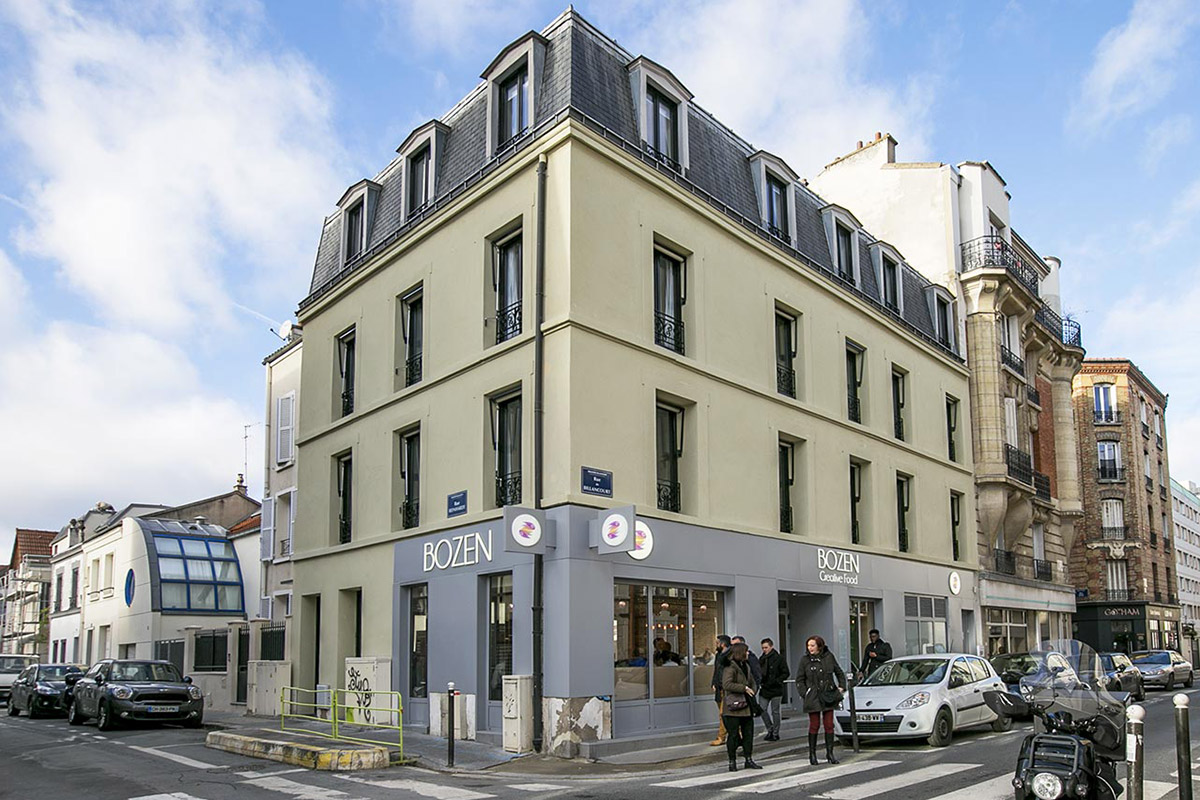 What are the key features of these apartments?
In a moderately-sized space, they have a lot of light, a large living room with an open and functional kitchen, a beautiful bedroom with large closets and a modern bathroom.
What were the project constraints?
We had to design nine apartments in total: three per floor.
We created three different atmospheres, so that there was a distinction between them and future tenants would have more choice. But the building was old, so obviously each apartment had different ceiling heights, beams, or recesses. We had to be very inventive with the plans.
First of all, we wanted to focus on making the apartments comfortable so we installed custom blackout blinds in the bedrooms, curtains and curtain rods, non-adhesive window film for the bathrooms, good quality appliances, full sets of tableware, bed and bathroom linens, etc. All of these details are much more than simple accessories.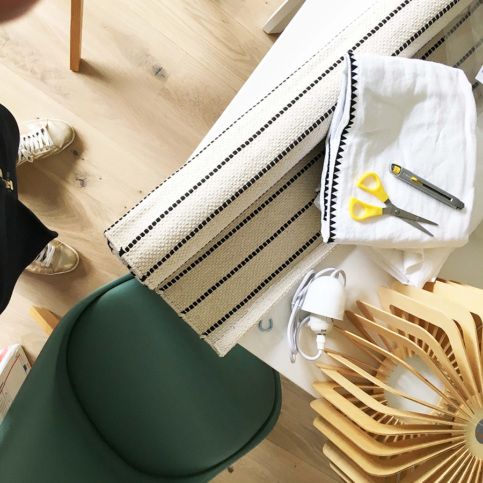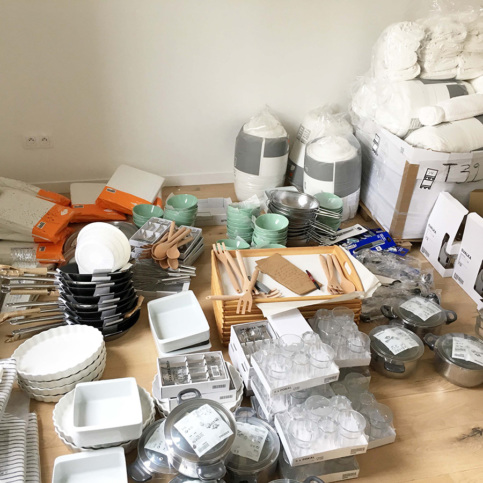 How did you choose the colour palettes? Tell us about the three atmospheres you created using them.
In the "White" apartments: minimalist style with clean lines. The details set the tone here.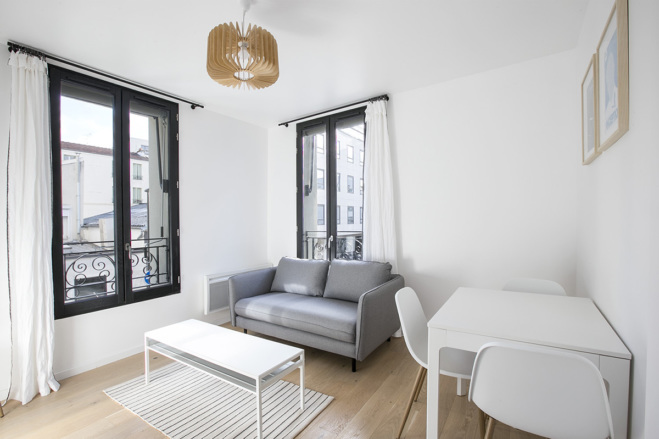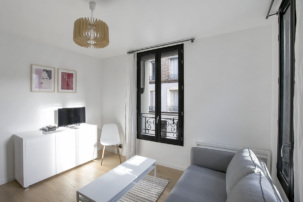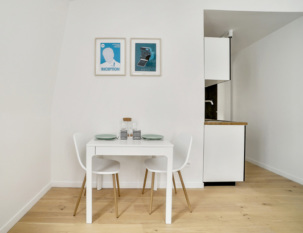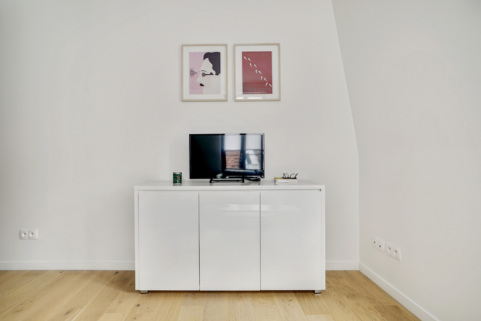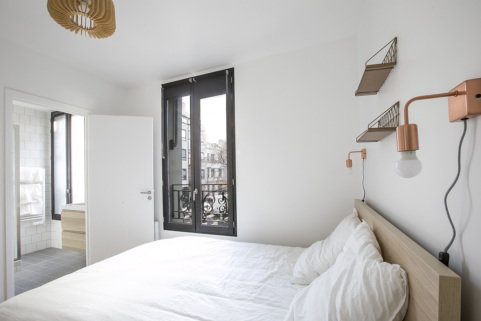 In the "Blue" apartments there is a more graphic, masculine style.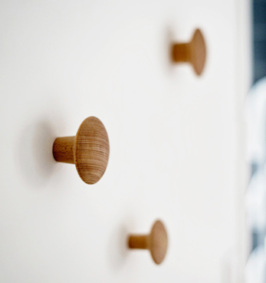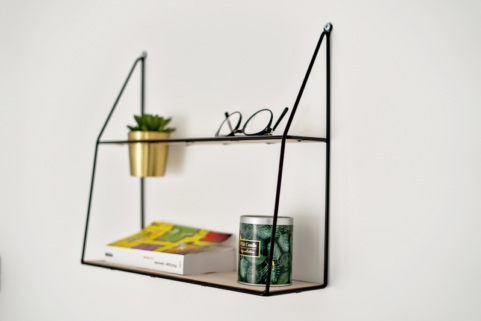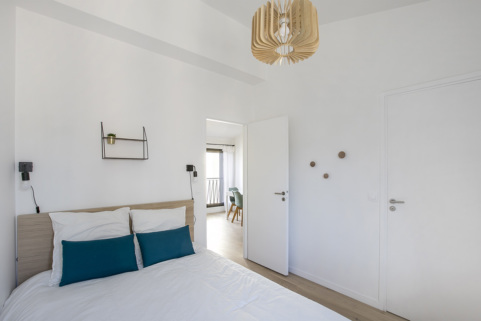 In the Yellow apartments, there is a vintage feel with pops of colour, a truly modern style and they're a little more feminine.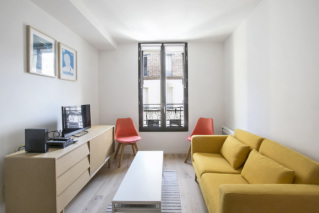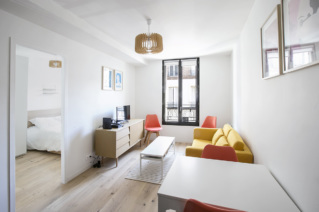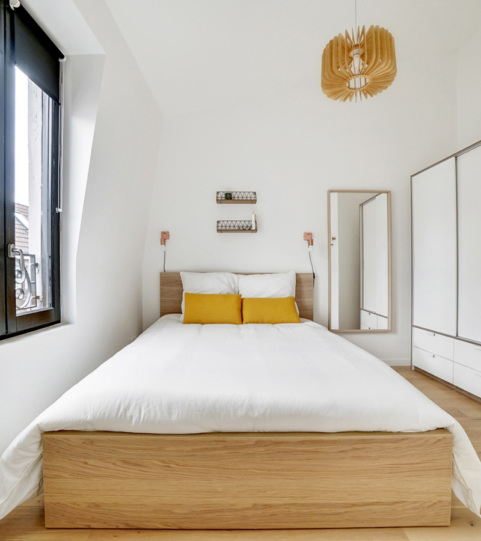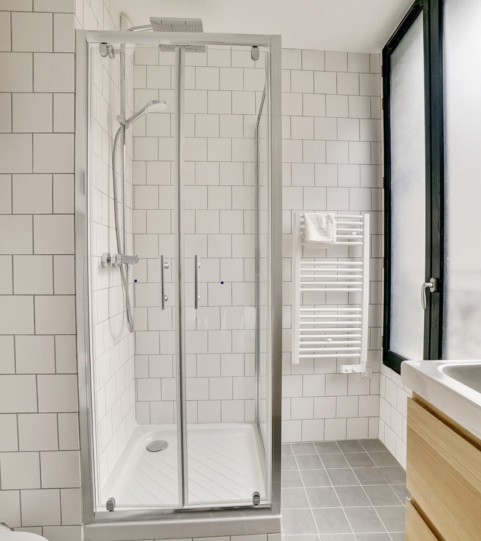 Do you have a favourite feature or object in any of the apartments?
The grey sofa in the White apartments that we found at Maisons du Monde.
They cost less then €500 and are just as lovely as their luxury-brand minimalist equivalents that we love, like Muuto, EnoStudio, Hay, AndTradition, for example.
Where do you find inspiration?
In everything, and everywhere! Instagram and Pinterest obviously. Decorating magazines and books. But also in everything I see when I go out in Paris, like a nice tiled floor, a well designed arch, colours on posters or paintings, shops, restaurants… I have a huge database of photos, it's very useful.
What aspect of your work as a decorator do you like the most?
Meeting the client(s), "decoding" their needs and desires and doing everything to realise them.
What was the most satisfying aspect of this project for you?
The schedule! We were briefed in early October, and we finished the nine apartments by the end of November. In all sincerity, given the number of properties to deliver and pieces to be set up and installed, that's a record!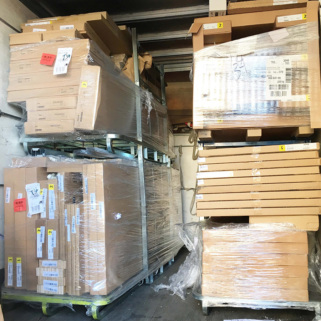 What advice would you give to an owner when decorating a furnished rental?
Provide furniture and the obligatory equipment, first of all.
Choose solid furniture that is likely to suit any taste.
Make it stand out with the decorative features.
---
Furnishing and decoration
Maisons du monde
5 boulevard Montmartre, 75002
La Redoute Intérieurs
10 rue du Trésor, 75004
AM.PM
60 avenue Victor Hugo, 75116
Image Republic
36 Rue Bayen, 75017
BHV Marais
52 rue de Rivoli, 75004
Fleux
39 Rue Sainte-Croix de la Bretonnerie, 75004
IKEA
Bientôt 23 Boulevard de la Madeleine, 75001
Apartments available to rent : ref. 17553 / ref. 17648 / ref. 17649 / ref. 17650 / ref. 17651 / ref. 17652 / ref. 17654 / ref. 17655 / ref. 17656