Charlotte Fequet took on this furnished apartment in the trendy neighbourhood of Saint-German-des-Prés to redesign the layout and redecorate. What she is most passionate about is giving her spaces a new soul. To do this, she likes to look for inspiration from her clients and the neighbourhood.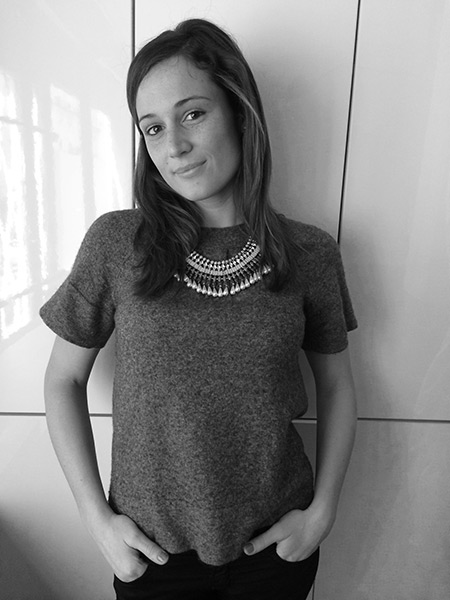 Did you decorate this apartment yourself? Where can we see your work?
I completely redesigned and decorated this apartment, which started out as a series of small rooms with a Spartan look in terms of the interior design.
We got rid of the partition walls, laid a new floor and redesigned the bedroom with a glass partition that provides a feeling of spaciousness, while also maintaining privacy.
Since the agency opened almost a year ago, I've had the opportunity to work on around ten apartments in Paris, and I like to take inspiration from the people who live here.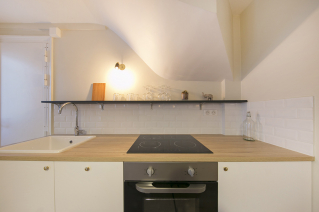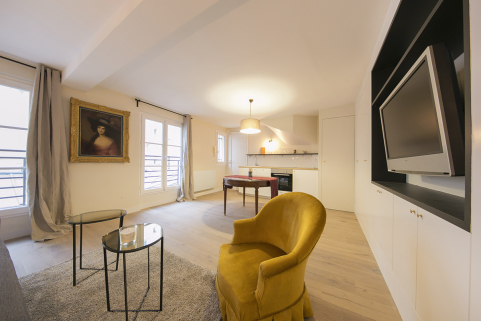 What gave you the most inspiration when decorating this apartment?
The apartment is located in one of Paris' oldest neighbourhoods, Saint-Germain-des-Près. When I visited if for the first time, I went for a walk around the little streets in the Latin Quarter and I noticed lots of shop windows and old bookshops where the wooden façade formed arches. I decided to keep this rounded arch shape and use it as a motif on the glass partition. The arches can also be seen in the communal areas, tying it to the history of the building.
The Fornassetti wallpaper in the bedroom is a nod to the neighbourhood bookshops.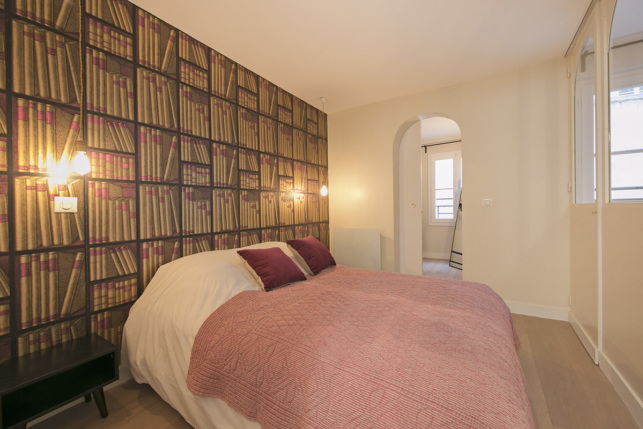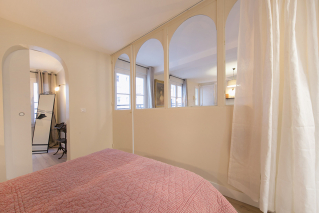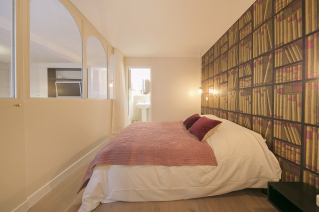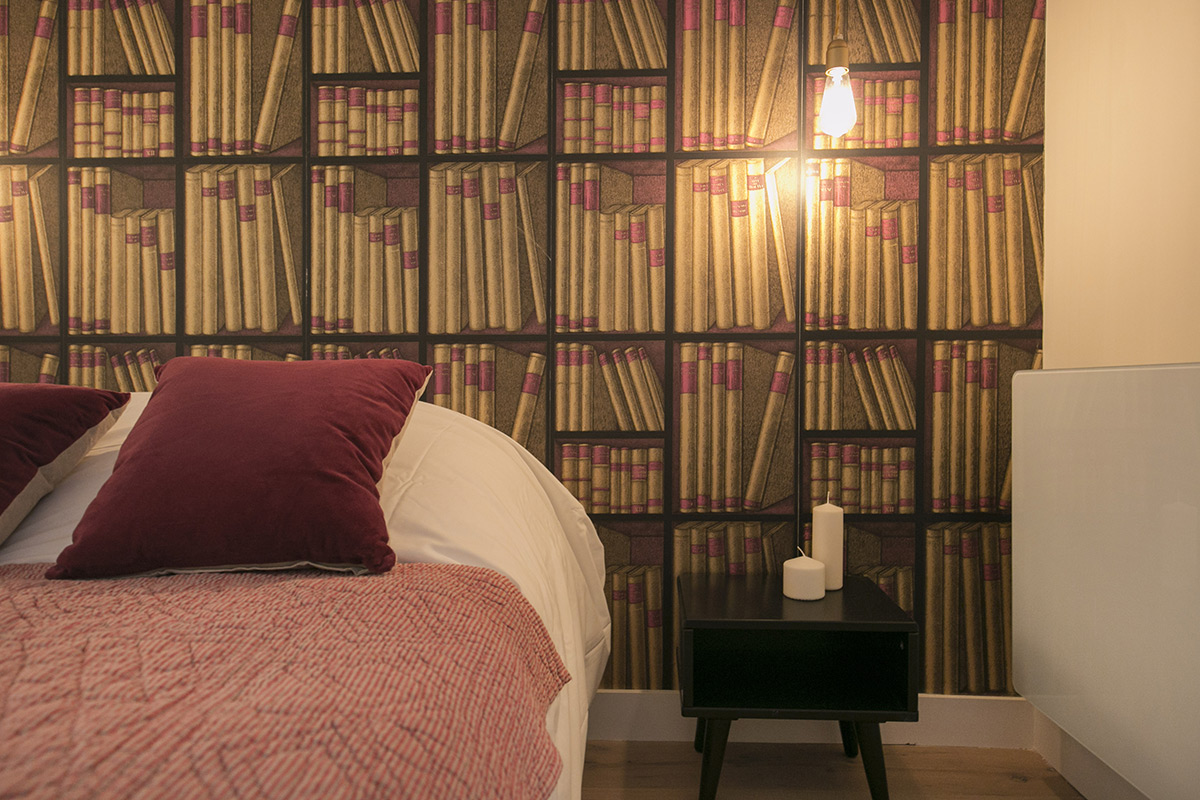 Which colour palette did you work with to decorate this furnished apartment?
The wallpaper and the glass partition are the two driving forces behind the project. I used the colours of the books as a basis for decorating the apartment – you can mainly see shades of raspberry red, gold and some touches of black. The walls are off-white, because I didn't want the space to be overwhelming.
Where do you usually go vintage shopping?
It is very important not to only buy new furniture, to avoid creating a sterile, soulless effect. Here, some of the pieces come from Drouot, others Le Bon Coin and Brocante Lab/Selency.
New pieces come from Made or AM.PM.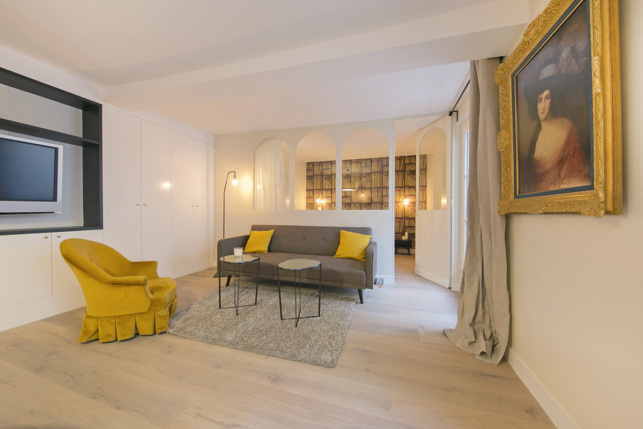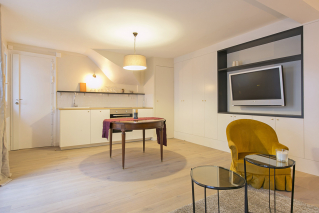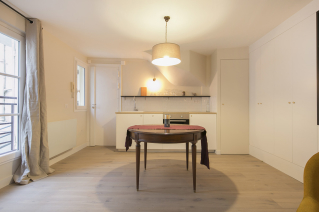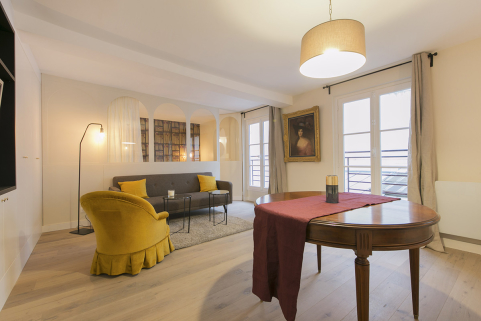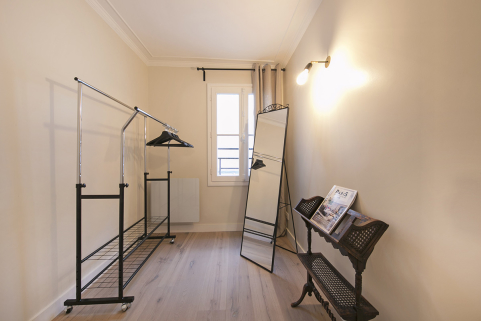 Have you a decorating tip you can share with us?
I find it interesting to always base my design on a concept which I then adapt to the space – here, it was the bookshop. It's a good idea to take inspiration from buildings too, and the neighbourhood and the people who live there, obviously. If you have a variety of furniture styles, eras and origins, you can tell a story.
What are the current decorating trends?
There is a trend for motifs, which you can see in wallpapers, fabrics, bed linens: there are foliage patterns, flowers, jungle, tropical, aquatic and other fantasy designs. You can really indulge, because these are elements that can be easily mixed and easily transformed later on, so allow your mind to wander as far as you like!
What is your favourite quote?
"In every child there is an artist: the problem is how to remain an artist when we grow up" – Picasso