A new wave of cafes and coffee shops is serving a better brew. We pick the best of the bunch.
Chic Parisians on café terraces sipping coffee served by a waiter in traditional black and white livery. It's a classic guidebook image. But behind the pretty picture, there often lies a less attractive reality.
"As a rule French coffee is fairly woeful," says Channa Galhenage, who's British and left behind a career in human resources to open coffee shop Loustic in the former premises of a handbag wholesaler in the 3rd arrondissement.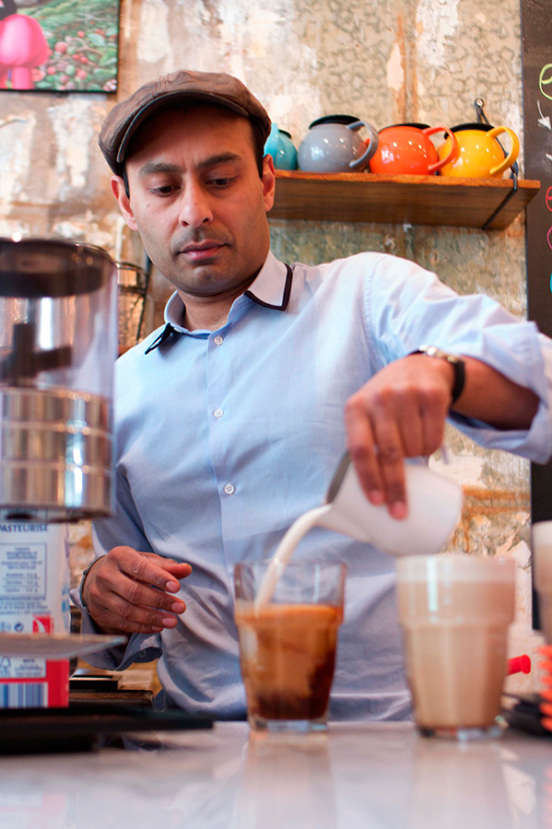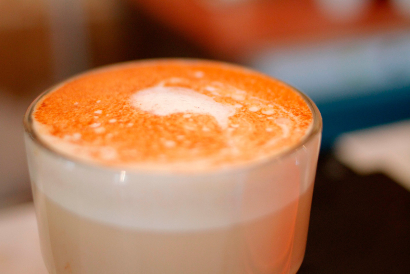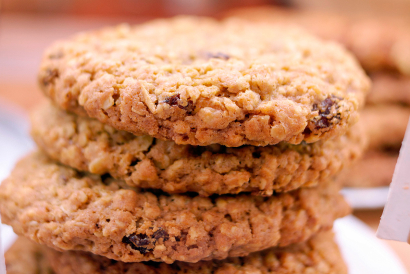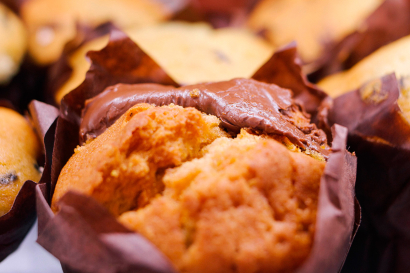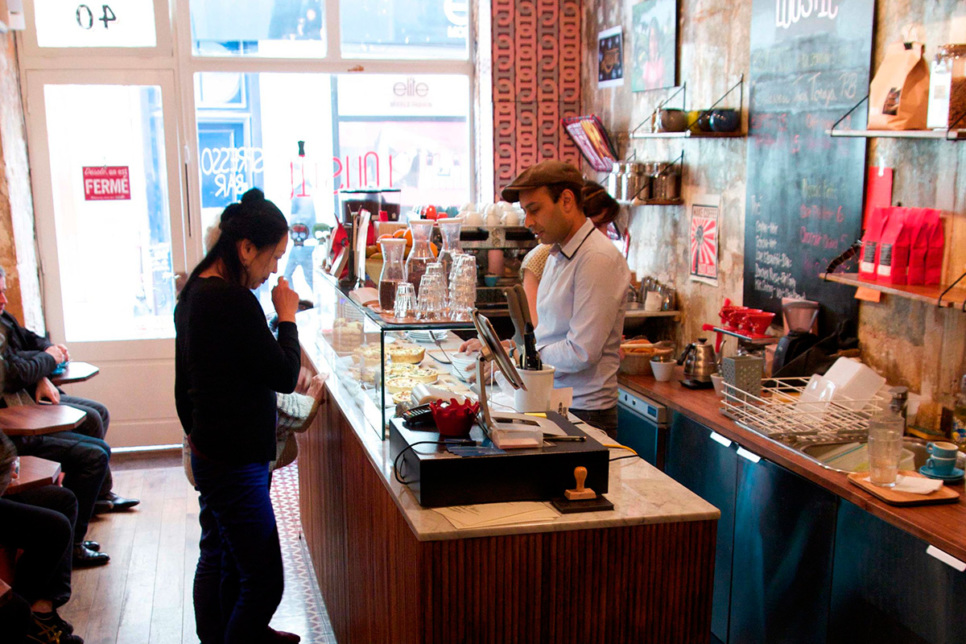 "Most of the coffee-making equipment you see in brasseries and cafes is rubbish and the technique is wrong," Galhenage says. "France is the 5th biggest per capita consumer of coffee in the world, yet for most Parisians their morning coffee is like swigging a dose of medicine."
According to Galhenage, Paris's descent into the coffee doldrums has been further compounded by the recent and rapid proliferation across the city of well-known, international coffee-bar chains.
"They're like Disneyland or McDonald's to me," Galhenage says. "Frappuccino, gimmick ingredients, silly names… It's coffee as entertainment or "experience." At Loustic, I wanted our selling point to be simply a great cup of coffee."
With that in mind, Loustic offers a wide and ever-changing range of coffees brewed on a classic Florentine Marzocco machine and from beans that are carefully sourced from Panama, Columbia, Burundi, and all points in-between.
Loustic also sells a wide range of teas, light snacks, tarts and muffins, as part of a good value fixed-price menu. And all in welcoming, funkily-decorated surroundings that seem designed to encourage customers to sit back and savour their lovingly-brewed shot of caffeine.
Bright lights on the shop-front announce Loustic's presence on a street that is increasingly gentrified but previously best known for its low-end fashion outlets. Yet if Galhenage was initially concerned about attracting the notice of passersby, he need hardly have worried.
As Loustic heads towards its second anniversary, it is firmly established as a popular neighbourhood hangout whose regulars include local mums with children in tow, gallery owners, writers, students and office workers. Meanwhile, tourists are drawn to the address by positive online reviews.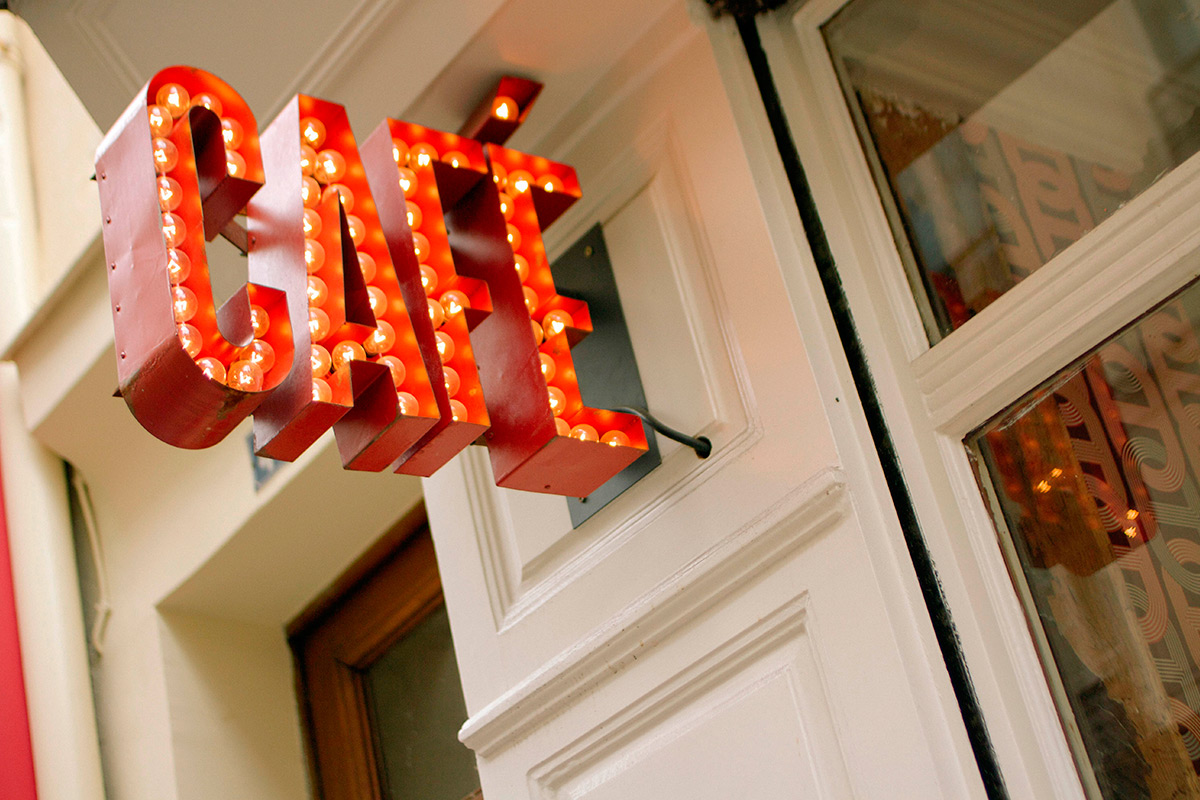 "Coffee here is of a consistently high quality," says American Fred Leffler. "Coffee in the neighbourhood French cafés is at best indifferent and sometimes downright grim. Plus the atmosphere here is a delight: it's a chill and very friendly place."
Even native Parisians are impressed. "As a citizen of France," says Isabelle, who's a Loustic regular, "it's maybe a little embarrassing that the English come to Paris and make better coffee than the French. But in this case it's true," she says with a smile and a Gallic shrug.
Channa Galhenage beams at such compliments. He's a man on a mission, he says. But it's not to turn Loustic into a chain and make himself a millionaire in the process. In fact, he's quite happy to recommend rival establishments such as the Caféothèque on the Rue de l'Hôtel de Ville that he believes serve coffee to his own exacting standard.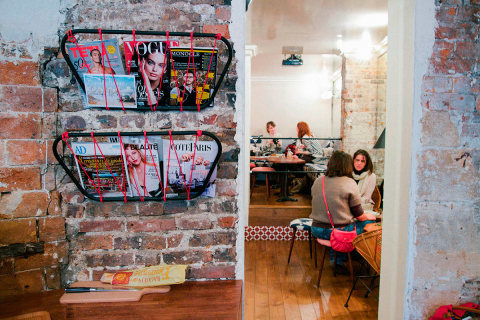 "I'm simply passionate about coffee," he says, "and at Loustic, we treat beans like a grand cru. My goal is for the French to treat coffee with the same respect as they do their wine and to enjoy an espresso or a latte just as much as a fine Burgundy."
---
The best coffee in Paris
Loustic
40 rue Chapon, 75003
Tel: 09 80 31 07 06
Boot Café
19 rue du Pont aux Choux, 75003
Tel: 01 73 70 14 57
Owned by former New Yorkers, the tiny but charming Boot Café was once a cobbler's shop. Grab one of the three tables if you can. Otherwise, as the sign in the window says, "these coffees are made for walking."
Café Aouba
30 rue d'Aligre, 75012
Tel: 01 43 43 22 24
Tucked away behind the fruit and vegetable stalls of the Marché d'Aligre, this crowded spot offers good coffee, fresh-roasted every day on the premises and a great view on the colourful market.
Da Zavola
24 rue des Bernadins, 75005
Tel: 01 46 34 66 97
Just a short walk from Notre Dame, this authentic Italian deli serves great espresso from its own specially roasted beans and has a well-priced food menu. You'll find other branches of Da Zavola in the 15th and 17th.
Fondation Café
16 rue Dupetit-Thouars, 75003
Open for just over a year, this tastefully minimalist establishment in the Upper Marais complements its coffee with a good selection of pastries and freshly-squeezed juices.
Le café Lomi
3 ter Rue Marcadet, 75018
Tel: 09 80 39 56 24
Coffee imported from more than twenty different countries is roasted on the premises and blends are supplied to other upmarket cafés. The interior has the cool, industrial look of an abandoned warehouse.
KB cafe
53 avenue Trudaine, 75009
Tel: 01 56 92 12 41
The stylish KB Café, formerly known as Kooka Boora Café, is at the heart of a fashionable foodie haven in SoPi (South of Pigalle). Its popular offerings include a wide range of iced coffees.
La Caféothèque de Paris
52 Rue de l'Hôtel de Ville, 75004
Tel: 01 53 01 83 84
Open since 2005, La Caféothèque is arguably where the Paris coffee revolution began. Those who are really serious about their brew can attend coffee appreciation classes. Everyone else can enjoy the lovely Seine-side setting.
Télescope
5 Rue Villedo, 75001
Tel: 01 42 61 33 14
A short walk from the Louvre, Télescope is owned by a former fashion photographer turned barista. Small and stylish, the absence of wifi doesn't put off a seeming legion of fans.
Le Coutume Café
47 rue de Babylone, 75007
Tel: 01 45 51 50 47
Coutume supplies its roasted beans to over 60 restaurants, bars and hotels in Paris. As well as a wide range of coffees, the café also serves breakfast and lunch, including good vegetarian options, as well as wine and artisan beers.
Those who want even more information on finding the best coffee Paris can go to Good Coffee in Paris, a well-written blog with detailed reviews of all the above cafes and more.