The most elegant square in that most elegant of cities, the Place Vendôme has long been home to Paris's most celebrated jewellery boutiques and workshops, from Boucheron and Chaumet (the official jeweller to Napoleon and Josephine, no less), to Van Cleef & Arpels and Cartier. Alongside such venerable names, however, the square also plays host to a new generation of jewellers who are bringing some free-spirited fun and renewed creativity to the area.
Prime among them is Lorenz Bäumer, who opened his salon and workshop at 19 Place Vendôme in June 2013. Although it's informed by an intimate knowledge of and respect for the great jewellers of the past, Bäumer's work is, at times, breezily freewheeling and irreverent and often gloriously colourful. Equally well, when the occasion demands, Bäumer can turn his skilled hand to heart-stoppingly lovely and coolly sophisticated pieces that are literally and figuratively fit for royalty (one of his most celebrated commissions was a wedding tiara for Princess Charlène of Monaco).
Bäumer, who was born in the United States to a German father and French mother, has lived in Paris since 1995 and, before becoming a jeweller, studied engineering and architecture. Here he talks to us about his work and career and shares the names of his favourite shops and restaurants in and around the Place Vendôme.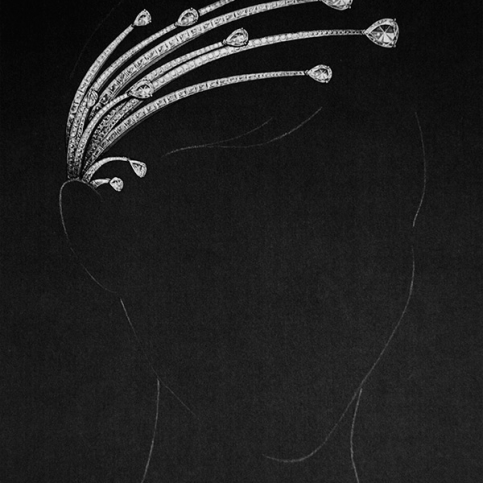 How would you describe your work for someone who's not seen it?
It's jewellery that's very creative I hope, very innovative, inspired by architecture and poetry and most of it, at least half of it, is one of a kind. My stuff is definitely not on the soft side of things and most of my clients are buying pieces for themselves and they're often people who are buying contemporary art. So they're daring, bold, ambitious people and not frightened to buy what they like.
You once said, "I believe in jewels rather than jewellery." What did you mean by that?
I meant that I don't have any interest in jewellery as a status symbol or something to enhance someone's image. So for me it's never about the value of a stone. What matters to me in the jewellery I design is to give an interesting meaning to whatever I do. So I don't have any boundaries when I design, whether that's about materials – I use titanium or ceramic – or about colour. I'm very comfortable mixing colours and I love the joyful, happy feel of bright colours. Also, we really don't want to repeat things we've already done a gazillion times.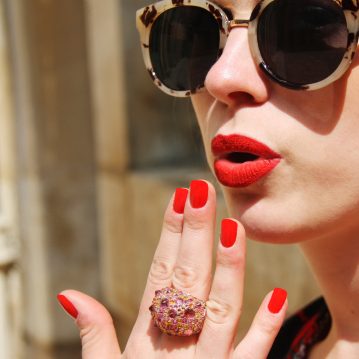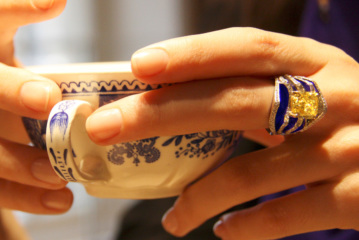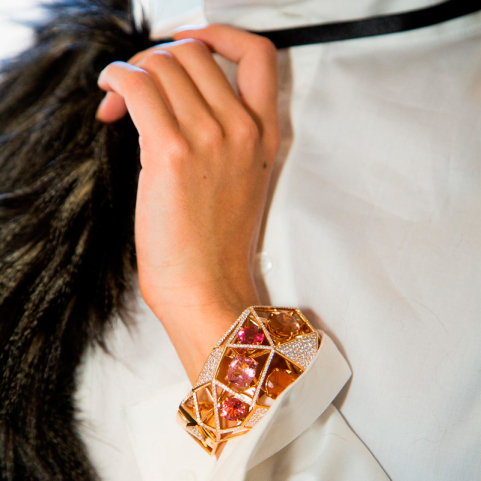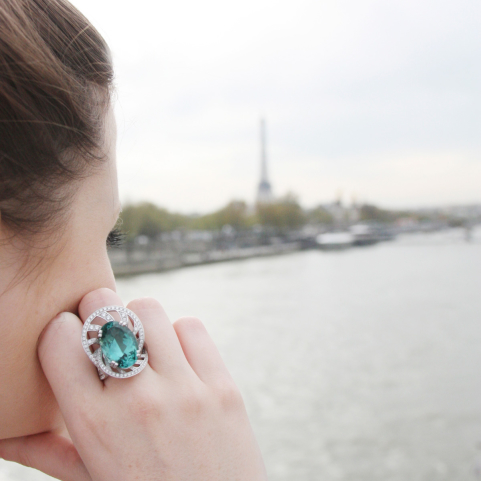 Do you think of your work as feminine?
The image of women constantly changes, so I want to help my customers be comfortable with who they are and buy something that's meaningful to them. To me that's femininity too. And I like the idea that our identities aren't fixed. We have a line called Good Girl/Bad Girl, for example, which lets people play around with that idea. One of the items is a pendant that you can flip around, depending on how you feel. One way is a gun and the other way is the dove, so it's war and peace.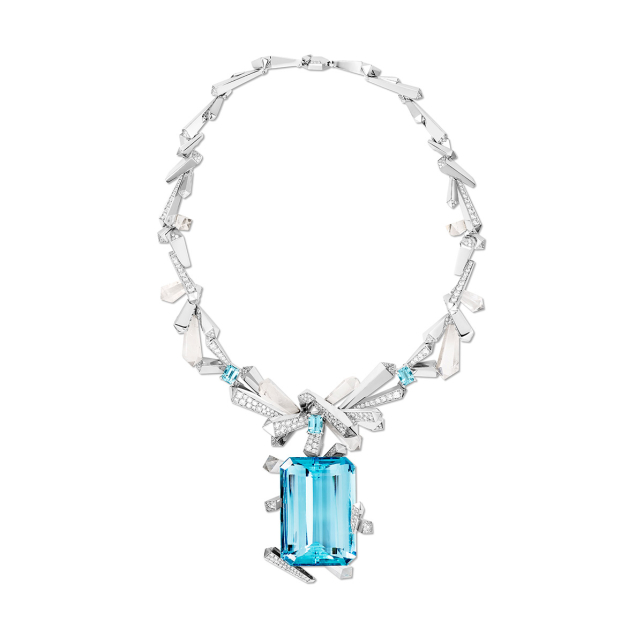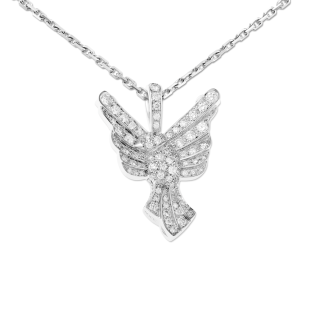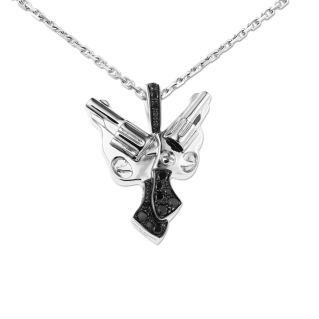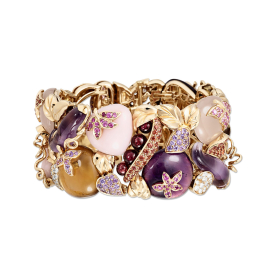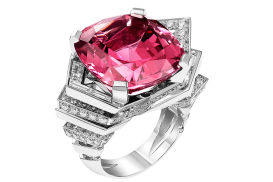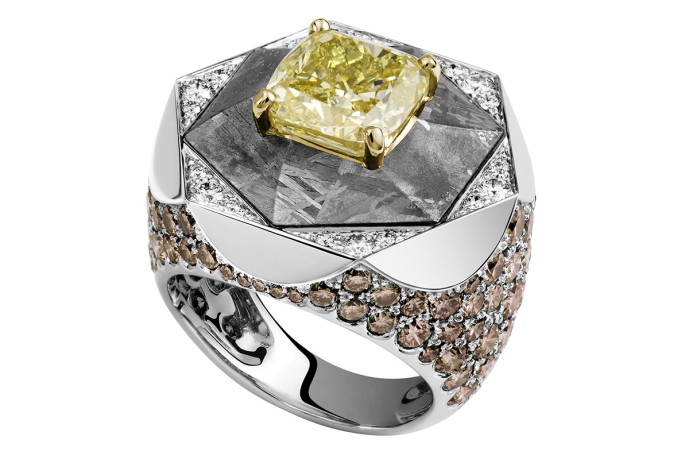 You also have a line using pieces of meteorites.
Yes, it's a chunk of a meteorite that we've cut to our liking and integrate into the jewellery. It's incredible to think you might be wearing something that has travelled for millions of years through space. There's something very poetic about it. And I love the idea that jewellery can surprise and challenge. It doesn't all have to be about white diamonds.
Given that your work isn't particularly traditional, did you have any doubts about opening a shop on the Place Vendôme, which seems to be a bastion of tradition?
It's historically in the centre of Paris, and it's always been the place for jewellery, for designing and making it, ever since Frédéric Boucheron moved there at the end of the 19th century, and everyone who really matters is there on the square or on the Rue de la Paix. And [laughs] I was always was a little bit crazy, so I just went for it. I mean, I always wanted to design the best jewellery, have the best place, have the best clients…
Many people find it quite intimidating going into the sort of expensive shops that you find on the Place Vendôme. What atmosphere does your shop have?
It's more a salon. I wanted it to be a place where you can discover things you've never seen before and be surprised and get out of your daily routine. I also wanted it to be a place where you would feel at home, which might be a bit contradictory, but a place you would feel so great that you don't really want to leave, where there's always something new and interesting, where there'd be an encounter with a designer and somehow the by-product of that encounter would be that you'd buy a piece of jewellery that feels really special and full of meaning.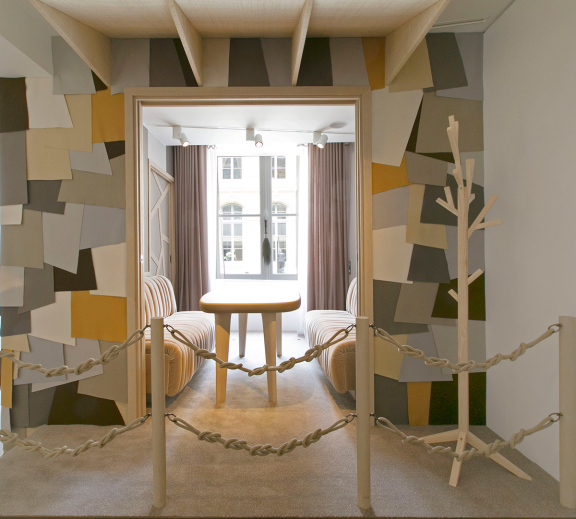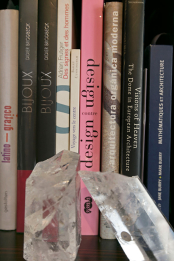 Looking back, do you remember the moment in life when you decided to be jeweller?
It was when I was a kid I suppose. My parents were diplomats and travelled a lot and my mom would wear jewels to go to parties in the evening. So one moment she'd be my mom and next second she'd be a princess from a fairytale because she was wearing all this shiny, glittery jewellery. So that kind of got me interested in having that magic touch that changes women into princesses, and that thing, that magic touch, is jewellery.
Yet you trained to be an engineer?
I wanted to make my parents happy and in France one of the most sought-after things that you can do is go to engineering school. But once I had that diploma I just said "Well, let me have a little bit of fun and design some fine jewellery." And it went from there.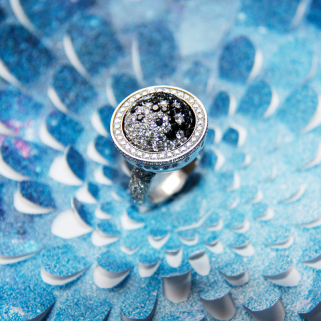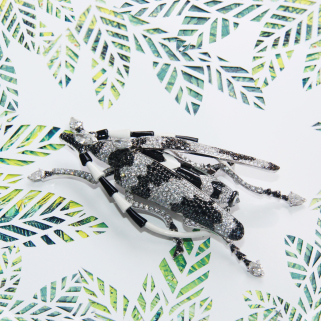 You were born in the United States. Where do you call home?
Europe is home. I feel European. As for Paris, I think it's probably the most extraordinary city in the world. I love the inspiration you can get from the city. Everyone is trying to excel in one way or another and there are so many people who are passionate about things, whether it be cheese or wine, art, architecture, fashion.
Whereabouts do you live in Paris?
I live in the 9th, next to the Opera, which is great because it's within walking distance of the office.
So where do you go to find inspiration in the city?
I could name all sorts of places in the city, museums and so on, but honestly [laughs], the shower is a great place. It's the one place where the phone isn't going to ring, no one is going to bother you. Being inspired for me is all about creating something that's out of time, and the water has a very relaxed and mellowing effect and sort of washes away all the things that are preoccupying you and getting in the way of your creative energy.
More information
Lorenz Bäumer Paris
www.lorenzbaumer.com
---
Lorenz's Favourite Places
Corthay
1 rue Volney, 75002
Phone: 01 42 61 08 89
Contemporary shoemaker. "It's quite wonderful. I have 4 or 5 pairs."
La Maison du Whisky
20 rue d'Anjou, 75008
Phone: 01 42 65 03 16
One of the finest selections of whisky in the world.
Librarie Gaglignani
224 rue de Rivoli, 75001
Phone: 01 42 60 76 07
English and French books. "They give amazing advice and recommendations and they have a wonderful jewellery section."
La Manufacture de Chocolat Alain Ducasse
40 rue de la Roquette, 75011
Phone: 01 48 05 82 86
Lavinia
3-5 boulevard de la Madeleine 75001
Phone: 01 42 97 20 20
Fine wines.
Plume et Bille
38 rue de l'Arcade, 75008
Phone: 01 42 65 57 92
Fine fountain pens and more. "I write every day with one of their pens."
Goust
10 rue Volney, 75002
Phone: 01 40 15 20 30
Modern French cuisine. "It's a super cool little restaurant run by the best sommelier in the world."
Paparazzi
6 square de l'Opéra-Louis Jouvet, 75009
Phone: 01 40 07 92 56
"The best pizzas ever. My children love it."
Kinugawa
9 rue du Mont Thabor, 75001
Phone: 01 42 60 65 07
Japanese cuisine. "It's fusion Japanese food, very innovative, and in a beautiful building.
Château de Chantilly
60500 Chantilly
"Just half an hour outside Paris. A really unique place with cool art and the Living Museum of Horses."
Palais de Tokyo
13 avenue du President Wilson, 75116
"It does an incredible job of showing what's going on with contemporary art."